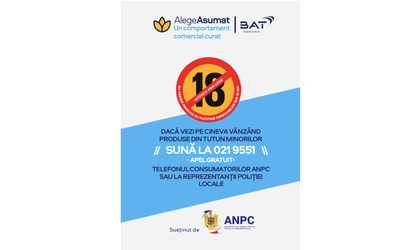 BAT in partnership with the National Authority for Consumer Protection (ANPC) launches the national "Choose Responsibly a Fair Commercial Behaviour" Campaign, a project aimed at public information and awareness regarding the importance of knowledge and compliance with legislation for preventing people under the age of 18 from accessing tobacco and nicotine products. This year, the campaign continues with awareness messages regarding the zero tolerance for the sale of nicotine products to minors, in approximately 32,000 partner retail stores in Romania.
"Responsibility and the prevention of minors' access to nicotine products are central elements in our activity both within our own teams and in the case of our commercial partners. BAT constantly invests in educational campaigns on proper marketing standards and principles, as well as legal provisions and reasons why minors should not have access to nicotine products. We are happy to continue this year with the more than 32,000 retail partners our awareness campaign regarding the zero tolerance towards the marketing of nicotine products to minors", said Ileana Dumitru, Legal, and Public Affairs Director, South Eastern Europe Area at BAT.
In Romania, BAT has continuously developed, for the last 25 years, programs to inform traders and consumers about the legal provisions, but also about the reasons why people under the age of 18 should not have access to nicotine products. As of 2019, the National Authority for Consumer Protection has joined the BAT campaign and provides consumers with the Consumer Telephone number 021/9551, where anyone can report a law infringement.
"If time was at our fingertips and could be given back and forth, then definitely one of the things I would eliminate from my life would be smoking. In the new age of electric cars, blowing smoke seems totally out of date. If you want to do something spectacular, choose something constructive, not a vice," said Horia Constantinescu, President of the National Authority for Consumer Protection.
BAT constantly updates and communicates its principles and standards for promoting and marketing its products. These include five key principles, which involve strict requirements on accountability, fairness, transparency, compliance with legal provisions and exclusive marketing to adult consumers. These requirements apply to both our own teams and business partners, and the strict adherence to these principles is part of our Supplier Code of Conduct, which sets out the minimum standards expected of our suppliers.