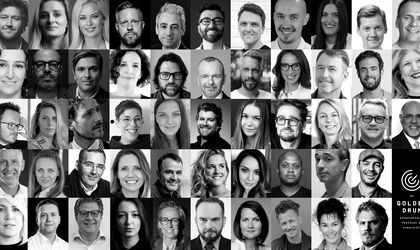 From 13 to 15 October 2021, 27th Golden Drum, an international festival of creativity, invites everyone to join more than 50 world-renowned speakers from 20 different countries sharing the most trending topics, stories, and advice. A wide selection of marketers, PR managers, entrepreneurs, designers, and creative directors will reveal how they keep business agile, innovative and accept risks while working towards a better future.
The best part – the festival will be held online, meaning you can listen, learn, and participate from the comfort of your home or office.
Register now at https://engine.goldendrum.com/register to get your digital free-of-charge pass.
What to expect?
13 October: Creative Accelerator Day
The first festival day will open the doors for the youngest members of our creative communities. A full day of the program will be joined by:
Nina de Ridder, Associate Creative Director at Dept, The Netherlands
João Inácio, Associate Creative Director at Dept, The Netherlands
Kristjan Klemenčič, Senior Copywriter at DROM Agency, Slovenia
Maša Stanič, Copywriter at DROM Agency, Slovenia
Eynat Guez, Chief Executive Officer and Co-founder of Papaya Global, Israel
Oana Bulexa, Managing Partner at MSL The Practice, Romania
Mariella Drechsler, Lisa Grimm, and Yann Sprajc, Young Drummers from Austria
Goran Golik, Creative Director and Lecturer at die Graphische, Austria
Ana Savšek, Head of Content Digital Marketing Department, Slovenian Tourist Board, Slovenia
Suvi Lähde, Executive Creative Director, SEK | Part of GREY, Finland – Jury President
14 & 15 October: From our Industry and Beyond
Thursday and Friday will bring stories, trends, and advice for all Golden Drummers who want to stay creative.
Meet the speakers joining us on the virtual stage on 14 October 2021:
Fadi Yaish, jury president, Founder and Chief Creative Officer at ‿ and us, Facebook EMEA creative board consultant and Founder of BWReport.org, United Arab Emirates
Eka Ruola, Chief Creative Officer at Nitro Group, Finland
Lauren Kelly, Founder and Behavioural Designer at BehaviourStudio, UK
Thomas Kolster, Founder and Creative Director at Goodvertising, Denmark
Szymon Solnica, Corporate PR Manager at Huawei Poland
Sergio Spaccavento, Chief Creative Officer and Partner at Conversion E3, Italy
Will Goodhand, Chief Innovation Officer at GoodMore Global Ltd., UK
Vlad Sitnikov, Partner at POSSIBLE Group Moscow, Brand Director of Skillbox, and Vice-president of RACA, Russia
Sergey Efimov, Marketing Technologies Director at OMD OM Group Russia (part of Omnicom), Co-chairman of AdTech committee at RACA, and AngelsDeck venture investors club member, Russia
Irina Romanova, Executive Director, PHD, and Co-chairman of pharma communications committee at RACA, Russia
Markus Wieser, Founder and Chief Executive Officer at Heimat Wien, Austria
Damien Marchi, Senior Vice-President of CSR Development at Vivendi, France
Karolina Galácz, Creative Director at DDB Budapest, Hungary
Milica Berček, Senior Marketing Strategist at Outfit7 (Ekipa2 d.o.o. subsidiary), Slovenia
Davide Boscacci, Global Executive Creative Director at Publicis Milan, Italy
Marianna Ghirlanda, Chief Executive Officer at DLV BBDO, Italy
Emanuele Nenna, Chief Executive Officer at Dentsu Creative, Italy
Sietze Rademaker, Director Sonic Branding and New Business at Amp.Amsterdam, The Netherlands
Jason Romeyko, Worldwide Executive Creative Director at Serviceplan Group, Germany
On 15 October 2021, the most burning questions of our time will be answered by:
Amy Rodgers, Managing Editor of Research & Rankings at WARC, UK
Álvaro Rodrigues, Chief Executive Officer and Founding Partner at Made Rio, Brazil
Dirk Aarts, Managing Partner at 24/7Communication, Poland
Grzegorz Szczepański, Chief Executive Officer at Hill & Knowlton Strategies, Poland
Eliza Misiecka, Chief Executive Officer at Genesis PR, Poland
Sebastian Stępak, Chief Executive Officer at MSLGROUP, Poland
Raja Rajamannar, Chief Marketing and Communications Officer and President of Healthcare Business at Mastercard, USA
Michael Moynihan, Senior Vice President of Global Brand, Marketing, Insights and Partnerships at The LEGO Group, USA
Barbara Evans, Managing Partner at Mediaplus Group, Germany
Fernando Machado, Chief Marketing Officer at Activision Blizzard, USA
Matt Cooper, Chief Creative Officer and Founder of Little Black Book, UK
Natalie Graeme, Co-Founder at Uncommon Creative Studio, UK
Terri Meyer, Co-Founder and Co-Chief Executive Officer at Terri and Sandy, USA
Anselmo Ramos, Co-Founder and Creative Chairman at GUT, Buenos Aires, Miami, São Paulo, Toronto and Mexico City
Sbu Sitole, Chief Creative Officer and Co-Founder of The Odd Number, South Africa
Aaron Starkman, National Chief Creative Officer at Rethink, Canada
Iza Sia Login, Tech Entrepreneur, Conscious Businesswoman, Influential Thought Leader, and Philanthropist, Slovenia
Ruxandra Papuc, Executive Creative Director at McCann Worldgroup, Romania
15 October at 19.00 CET: Grand Award Ceremony
The winners will be announced during a special free-of-charge gala event showcasing the best creative works entered into the 27th Golden Drum Competition.
The Award Ceremony powered by Mastercard will be hosted by Klemen Slakonja, a remarkable Slovenian Actor, Comedian, Television Host, Impersonator, and Singer. We are looking forward to celebrate this year's winners and award them with our new sustainable trophies.