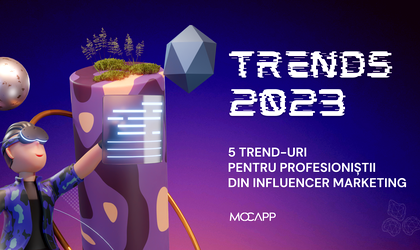 2023 is here, and marketing industry professionals face a series of challenges and opportunities that can influence the success of communication and advertising campaigns.
For them, MOCAPP, the largest Influencer Marketing platform in Romania, has prepared a guide of recommendations starting from the main 5 trends of the year that has just begun.
Acquisition versus retention:
80% of consumers seek product and service recommendations from Social Media creators and influencers (source)
With the increase in personalization and the "humanization" of brands to increase authenticity and trust, consumers are becoming more interested in associating brands with popular figures and opinion leaders.
Marketers are tasked with making these partnerships with influencers and famous content creators (51% concluded that Influencer Marketing helps them attract better consumers), but acquisition costs are skyrocketing across all digital channels (Google, Meta, Amazon).
For this reason, the relationship with customers already in the portfolio becomes vital to encourage repeat purchases and strengthen the brand in the minds of current consumers.
Recommendation for brands:
Don't let your customers migrate to other brands! Remind them why you have a relationship that can last! In addition to strategies for conquering new markets, secure the relationship with those who have already bought. You can keep them close through loyalty campaigns, and you can involve customers who also have significant communities in Social Media in promotion campaigns or live shopping.
Campaign performance has become the primary goal in Influencer Marketing.
Influencers will increasingly be rewarded according to the performance of their campaigns. The trend has already been seen for several years in Europe and the United States. So, Affiliate and Influencer Marketing tend to converge, especially for nano-influencers and micro-influencers.
It becomes less important who mediates and much more relevant with what impact he does it and the quality of the audience he speaks to.
Recommendation for influencers :
Make sure your influencer monetization has the right math behind it, and that it's transparently communicated to brands. Make visible your campaign performance and the impact you generate in brand campaigns. Build industry case studies to highlight the value you create through content curated by consumers in your communities.
Content is king, Video is good
The engine of growth is video content in communication and advertising! Here are the growth opportunities: TikTok's share of marketing spend is growing rapidly, but Instagram (Reels & Stories) still has over 50% of Influencer Marketing budgets.
Recommendation for content creators:
The passion to make content is a business that requires investment. Allocate an annual investment budget for the right audio-video equipment. Video quality of online content is one of the most important selection criteria for brands and a differentiator in the impact you create among your communities.
Reinvention in different play spaces
Instagram is the medium of choice for Influencer Marketing. The numbers are clear: more than 90% of influencer campaigns are on Instagram, even though Insta has fewer active members than the other platform in the Meta group (Facebook) and even fewer than TikTok in some countries.
TikTok is becoming, in parallel, more and more a playground for eCommerce: in 2023 it will be the leader in Social Commerce and Live Shopping.
Recommendation for content creators:
Math is important no matter which channel you choose to communicate with your audience. Some touchpoints are more effective for brands, so there are more opportunities for collaboration and monetization at those touchpoints. Strengthen your presence and interaction with your community on the right social networks.
Data-driven and primary data matters!
The evolution of technology gives more and more power to the concept of Data-driven Marketing: as companies use artificial intelligence and machine learning, they will include these technologies in their marketing strategies, using technology to identify trends and improve partnerships with Influencers. I can use it to infer context and meaning from conversations with current customers.
Recommendation for brands:
Digital technology and rules make primary data play an important role in identifying authentic creators, due to blocking against cookies. If KPI is a keyword for you in 2023, use these digital rules to generate results more easily and choose those creators who build authentically and with real impact.