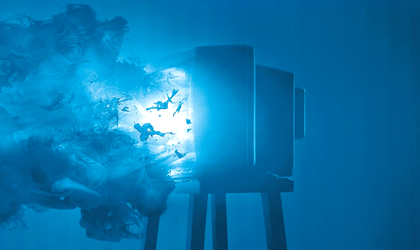 Initiative estimates that the Romanian media market grew in 2019 with 7 percent, while in 2020 will keep on growing with 5.5 percent, according to the latest date from the Media Fact Book report. Therefore, the Romanian media market is estimated to reach the EUR 514 million value, after registering EUR 487 million in 2019.
"We are expecting that, at the end of 2020, the media market will surpass the stage of EUR 500 million, for the first time after 2008, when it reached a historic value. The spendings follow the evolution of the media consumption in its long term transition towards a digital-centric landscape, on-demand, and the growth rate will calm down while the Romanian economy slows the rhythm, the media spendings being readjusted accordingly." Says Alexandra Olteanu, Managing Director Initiative.
In 2019, the investments in TV advertising grew reaching 5 percent, compared to 2018, up to the value of EUR 315 million. The biggest growth rate was registered by the digital market that reached EUR 99.1 million, with a jump of 17 percent vs. 2018. Moreover, it was a good year for the OOH market as well, which reaches EUR 32.2 million in 2019, with 5 percent more than in 2018. The radio market continued the rising trend last year as well, with an estimated value of EUR 28.3 million.
For 2020, the agency Initiative estimated new growths for TV (+2.5 percent, up to EUR 323 million), online (+16 percent, up to EUR 114.5 million), radio (+8 percent, up to EUR 30.6 million) and OOH (+5 percent, up to EUR 33.8 million).
At a global level, according to the MAGNA estimates, a company in the IPG MediaBrands group from which Initiative is also part of, show that the net investments in advertising grew in 2019 with 5.2 percent and will grow with 5.7 percent in 2020, reaching USD 595 billion. The global TV market was in a slow decrease (-4 percent) in 2019, registering USD 173 billion, reaching its lowest year in performance (2009), caused by the accelerating rating drop and the lack of big events generators of audience.
In 2019, the online continues to dominate the global media market, reaching record rates in the overall market, up to 51.5 percent, with a value of USD 306 billion. Social media registers the highest growth in online, with 25 percent, over the numbers generated by the digital video (23 percent) or search (14 percent). The search remains the number one in digital, being the format that registers USD 144 billion and 47 percent of the total online budgets.
Media Fact Book is the only report of the Romanian media and advertising market, a guide edited each year by the agency Initiative, starting 1997.