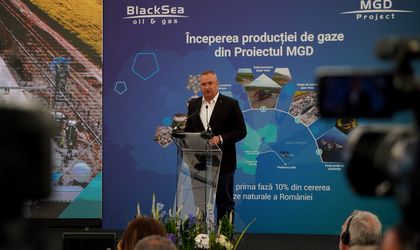 In June 2022, Black Sea Oil & Gas started the natural gas production through the Midia Gas Development Project (MGD Project) in the Black Sea. The first exploitation of this type in Romania in the last 30 years is beginning to supply natural gas at a time when, amid a difficult geopolitical context at regional and global level, the market is facing a resources crisis.
The historical moment was marked by an inauguration event that took place at the Gas Treatment Plant in Vadu, and the BTL services wore the signatures of Golin and MullenLowe Romania. The area allocated to the event has been completely transformed in order to accommodate 200 guests, from senior officials of the Romanian Government to representatives of the main local authorities, and of the most important companies and organizations in the oil & gas industry, as well as in the national and local press.
"The MGD project responsible for placing into production the Ana and Doina gas fields in the Black Sea has come a long and difficult way from the giving the concession to the arrival of gas in the homes of the Romanians. What makes it really special is the series of premiers recorded for Romania, a country that has not had any development in the Black Sea in the last 30 years, and the unprecedented importance achieved this year against the backdrop of the geopolitical context we are going through. A project of such scale required a large inauguration, together with important stakeholders. We chose, once again, to work with our experienced partners at MullenLowe and Golin Romania, who provided us with the necessary consultancy and worked wonders in BTL, by turning the area from a construction site into a remarkable complex event. I congratulate, in this way, all those involved", said Ana-Maria Pericleanu, Communication & CSR Manager, Black Sea Oil & Gas.
—
"It does not happen every day to develop the inauguration event for a project of such national importance. In fact, it seems that the opportunity comes every 30 years and we are glad that we have been part of this large-scale activity. From preparing the sketches and coordinating with suppliers, to dozens of hours of assembly and disassembly of large elements and areas, which included 1,400 sqm of floor and access ways, a 700 sqm tent, over 280 sqm of spectacular branding and other logistics elements, the whole experience was complex and unique, with results that we can only be proud of", added Hortensia Năstase, Vice-President Creative Services, MullenLowe Romania.
The event was attended by 50 media representatives who facilitated live broadcasts on the most important TV stations in the country and numerous other materials that presented the most important information and statements.
BSOG Team: Ana-Maria Pericleanu (Communication & CSR Manager)
Golin Team: Cristina Butunoi (Deputy Managing Director), Maria Bîrnaure (PR Manager), Alexandra Dumitru (Senior Media Associate)
MullenLowe Romania Team: Elena Enciu (Account Manager), Iulia Badea (BTL Manager), Andra Panaitescu (Client Sevice Director), Gabriel Miu (Art Director), Mădălina Buhos (Copywriter), Valentin Ionescu (Art Director), Haddad Elie (Digital Art Director), Alexandru Ranete (Graphic Designer), Mircea Solomiea (Graphic Designer)