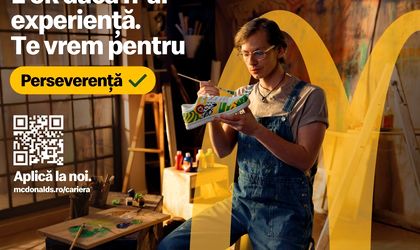 McDonald's believes in young people in Romania and their professionalism, which is why it continues to communicate based on the employer branding platform launched last year, also together with the creative agency DDB Romania. This time, however, the "People with Experiences" campaign emphasizes keywords such as skill, perseverance, attention to detail, dedication, teamwork, calmness, creativity, and patience.
Young people feel enormous pressure when they have to enter the labor market, not having the professional experience to give them legitimacy. A pressure that does not only have as its source the expectations of the employers but also those set by themselves. McDonald's wants to help them through the campaign to remove this double pressure.
"We believe that the legitimacy of a young person without professional experience comes from personality traits and accumulated life experiences. For example, discipline at work is a characteristic that you can acquire from passions, such as sports, and the ability to work in a team, from projects done at school or college. Investing in young people with confidence, we give them a platform to rise to their own professional expectations. We do this every day in the teams in these restaurants or through dedicated programs, and the new campaign is meant to, once again, bring to light this promise we make to the young generation", said Irina Angelescu, Marketing Director of Premier Restaurants Romania (McDonald's) .
Moreover, if last year the collaboration with artists was a first for McDonald's, in 2023 the company turned to Rareș to compose the soundtrack, emphasizing the need for experiences, not experience, when it comes to obtaining a job.
"In a world that seems to operate more and more on the basis of notifications, updates, certifications and anecdotal evidence of success, creating enormous pressure in the process especially for those at the beginning of the journey, we thought that a discussion about the unique potential of each of us can be a welcome proof of confidence. So, together with McDonald's and Rareș Mariș, we tried to highlight in the most authentic way possible the creative energy of the young spirit – the strong and permanently fresh breath of small explosions of potential," said Teodor Minea, Senior Art Director DDB Romania.
"McDonald's remains a loved brand among Gen-Z, but a leader knows he can't take his consumers for granted. That's why, in the second year when McDonald's declares "We believe in young people from Romania", the communication platform must continue to speak to young people in their language, help them with a real need and be anchored in pop culture. From the data we have related to the fears of young people, together with the brand's need for recruitment and the communication of values, we arrived at People with experiences" – Georgiana Nica, Strategy Planner DDB Romania.
The campaign concept will also be supported in the digital environment through an activation with Rareș Mariș, Cesima and Theo Zeciu, who will be challenged to spend a day as McDonald's employees. They will demonstrate and support the concept of the campaign, highlighting the importance of personal skills, regardless of the level of experience in the field of work to manage at McDonald's.
"We chose to prove IRL through these video pills that you can get hired and do very well at McDonald's if you have skills like perseverance, creativity and, in general, life experience that is more important than any job experience. That's how we chose three influencers to build this story with us. Rares is creative, he composes his own music, so he will do great and be on the beat as a barista. Cesima has great dancing talent, so she will juggle the tasks with great skill, and the Crew job will fit her like a glove. And Theo Zeciu, with his skill as a good communicator and people person, will interact with the people in the restaurant from the role of hospitality manager and will offer customers an unforgettable experience." – Irina Blanşek, copywriter Tribal Worldwide Agency.
The video content will be promoted on the Tik Tok pages of the three influencers.