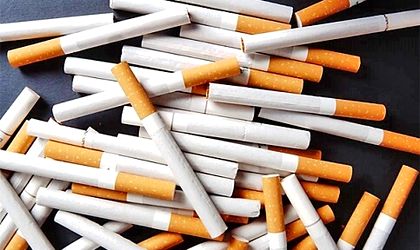 Cigarette smuggling in Romania led to a loss of over RON 3 billion for the state budget in 2018 after an increase of the black market for cigarettes to 16.3 percent of the total sales, up from 16 percent in 2017. Romanian authorities prevented the entrance of over 112 million cigarettes last year.
The total black market value of cigarettes confiscated by the Romanian authorities in 2018 amounts to more than 50 million lei, according to the public data available on the website www.stopcontrabanda.ro, the first centralizing site that offers the situation of the cigarette seizures in Romania in real time.
"We can expect that the significant increase in excise duty on cigarettes in 2019 will put additional pressure on consumers, with the risk that they will move more into the market for half-priced black market products. That is why the border security measures announced last year by the Finance Ministry should be applied as soon as possible. Last year's experience showed that despite the efforts of the Romanian Police and the Border Police to destroy organized crime networks, in the absence of proper endowment of the Customs, the consumption of smuggled products will continue to increase," said Ileana Dumitru, public relations at British American Tobacco Romania.
In December 2018, British American Tobacco, in partnership with the Romanian General Police Inspectorate and with the Romanian Border Police, launched a project to inform consumers about the legal implications of the smuggling of cigarettes.
According to the data, Romania has the highest level of cigarette smuggling in Eastern Europe. Our country has 2,000 km of borders with non-EU countries, where the tobacco price can be up to 6 times lower. The illicit cigarette trafficking annually damages the Romanian state with over EUR 650 million (about RON 3 billion). The state budget loses about EUR 50 million a month because of the black market and for every percentage point added to the illicit tobacco market, the state budget loses another EUR 40 million annually.