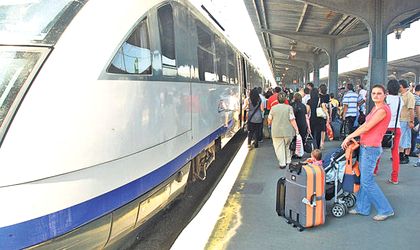 Travelers who took trains from two cities in west Romania to reach their planned holidays at Black Sea resorts experienced one of the worst journeys in their lives. Two train journeys from western cities Timisoara and Arad to Mangalia, a Romanian seaside port (about 800 km each), took over 30 hours this past weekend due to a mix of poor infrastructure and bad weather along the way.
Local press wrote that two Interregio trains that had left Timisoara and Arad on Sunday afternoon reached their destination in Mangalia after more than 30 hours after taking an alternative route due to floods which affected an already poor rail infrastructure.
These long journeys to the seaside very quickly became a joking matter among Romanians on the internet as a flood of memes and ridicule spread across social media networks.
"Timisoara-Mangalia: 30 hours; Bucharest-New York: 12 hours," is only one of many jokes on the subject.
But this record long train ride reflects the sad reality of Romania's transport infrastructure, which forces people to waste a lot of time on roads or on trains in order to get across the eastern European country.
State-owned rail operator CFR blamed the floods for the delay, but travelers' statements suggest bad management played an important role.
Travelers received sandwiches and water bottles at train stations on the way, but they complained of having received chaotic and contradictory information as they asked the train staff about the delays.
"It's as if we're going around in a circle… the speed is 20-30 km/h. We're losing our patience. Shame on CFR. We have already had an 800 km detour to bypass a blocked road, they say," one traveler told Mediafax.
"I got a bottle of water for 5 people and a croissant. There are babies on this train, I don't think they would eat vanilla croissants. Not to mention that the toilets that are clogged," said another traveler.
Romania is reputed for its poor rail infrastructure as the last major investments in railroads were made in the 1970s.
The worst railroads in Europe
Romania ranks last among European Union member states in terms of railway infrastructure quality, according to Octavian Udrişte, honorary president of Club Feroviar.
"We are all trying to convince the authorities to support the railroad, because we are on the last place in Europe. Everybody says it, and the scoreboard published by DG MOVE (European Commission's Directorate General for Transport) ranks 28th on all the analyzed transport systems – rail, road, naval, air and public transport – with 30 criteria, and points: we are on the last place. With rail infrastructure we have won two seats, we are 26th, because Malta and Cyprus have no railways," Udrişte recently said.
"I do have to remind you that in 30 years we did not electrify a single kilometer of railway, that the pace of upgrades is slow, that at this rate only for Corridor IV it would still take about 15 years, and for the entire TEN-T Comprehensive network, the Rhine-Danube network, almost 5,500 kilometers, it would take nearly 200 years," he estimated.