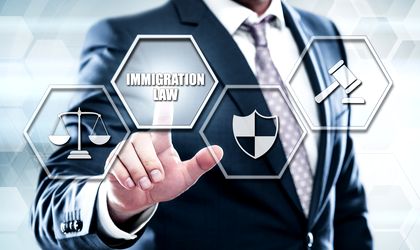 If your company handles business reviews, in order to get reviews of businesses overseas, it's very likely that you will have to send people overseas. But when do you need to use an immigration attorney for that? Using an immigration lawyer can help you with court dates, paperwork, forms, and legal advice. They can answer questions like what is a spouse visa? How long can I stay on a travel visa in one country or another? What does it take to become a citizen in another country?  Companies that focus on business reviews might need to travel for work in order to review foreign offices, but that comes with the need for updated information on visas especially travel visas for tourists. 
When should I use an immigration attorney?
There are many situations where you might be able to find answers online especially for rudimentary immigration issues like a tourist visa to another country. State departments and the Department of Homeland Security give you a lot of information online especially with access to forms you can download for more complicated immigration matters. However, for more complicated immigration matters like spouse pieces or work visas, the language can be very difficult to understand and if you don't get everything exactly right, you might not get immigration benefits or your application might be thrown out.
More importantly, the law changes regularly and that means that information which might have been posted by an immigration blog 5 years ago could very well be heavily out-of-date so if you are relying on that information alone and not on the advice of counsel, chances are you will miss something very important or submit the wrong papers.
What makes the best attorney?
The best attorney is one that is part of organizations like the American Immigration Lawyers Association, and have experienced practicing in your area. Not all immigration cases are the same so if you are looking for help with spouse visas, you don't want someone who specializes in deportation hearings just the same as if you are facing deportation hearings, you certainly don't want someone who specializes in work visas and has no court experience.
What will it cost me?
The cost of an immigration attorney will vary. Firstly, there is the cost of the consultation. The consultation is your initial meeting where you first sit down with an attorney, explain your situation, and verify whether that attorney has experience handling similar cases and is able to take on yours. Most of the time the cost for a consultation is between $100 and $300, depending on how big the law firm is and where you are located. A law firm that has multiple branches across major cities and around the world is going to charge significantly more but you get access to better experience and a wider range of resources.
The other cost is what they charge for their legal services. This is a cost you can discuss during your consultation. Most immigration attorneys work on a flat fee basis for the majority of immigration cases. This flat fee means that if you want to get a spouse visa, they might charge you a flat fee of a few thousand dollars and that covers the cost of any and all services related to that Visa. This can be easier for customers because it means that you know exactly how much money to set aside and no matter what complications might arise, they are very likely covered under that flat feet.
There are other situations like deportation hearings where you might have to pay an hourly rate based on the amount of time that goes into preparing for your case and the number of times you have to appear before court. However, you can always discuss the terms of payments and payment plans before you hire an attorney.
Can I do work myself?
There are some situations where you can do work yourself. you might even find an attorney who lets you split some of the work in order to reduce your cost. These are things that you want to talk about during your consultation. Splitting the work means that you handle menial tasks like Gathering evidence for your application and filling out the paperwork but then the attorney just reviewed everything at the end to check for mistakes and then submit it. There are certain attorneys who will not do this simply because they don't want to take on the risk of signing off on documentation that they didn't prepare themselves. However, it never hurts to ask.