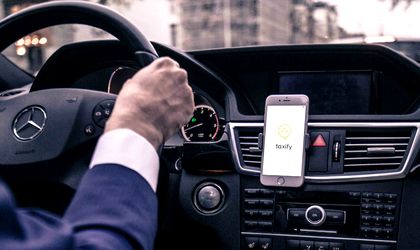 Uber and Bolt (formerly Taxify) have written a joint statement appealing to government officials, asking them to postpone a planned emergency ordinance to change the taxi law, as it would affect both the drivers and customers of the ride-hailing companies, making their services difficult to operate.
The government's project, now up for public debate on the Development Ministry's website, eliminates the word "repeatedly" from the taxi law, which means that the police can fine drivers who transport people if they don't have a valid taxi licence, something which is very hard to obtain, especially in Bucharest. Fines can reach RON 5,000, even for the first offense.
Hundreds of taxi, minibus and coach drivers protested in Bucharest's Victoriei Square this week, demanding that Uber and similar services be banned, as they are not subject to the same legal requirements as regular taxi drivers, which they say leads to unfair competition.
The statement by Uber and Bolt reads:
"We appreciate the government's openness to dialogue and ensure them of our full cooperation to upgrade transport legislation in line with the European Commission's recommendations, which say that new services should be regulated, not banned.
Until Romania has a regulation framework for new alternative transport services, one similar to those in other EU countries, we ask members of the government to postpone a potential emergency ordinance, in the name of the more than 2 million users and tens of thousands of drivers who use our platforms to earn their living.
Over two million people in Romania are active users of Uber, Taxify or other similar apps. 1 in 10 Romanians uses and appreciates these services because they are affordable, safe, high quality and trustworthy. According to an IRES study, 7 out of 10 young people see our apps as an alternative to personal cars, while 9 in 10 want authorities to encourage the development of such alternative services, and not limit it.
So far, this new industry has contributed tens of millions of euros to the local economy, in just a few years. At the same time, we've helped create and maintain tens of thousands of jobs which bring more revenues into public budgets.
The potential is considerable, and our joint commitment is to continue to invest in the development of this industry in Romania. We want to work with authorities to help make urban transport more efficient, cut pollution and solve the parking crisis in large cities.
We share the taxi industry's opinion that the legal framework needs an update, but we think these changes should favour the development of the mobility industry."