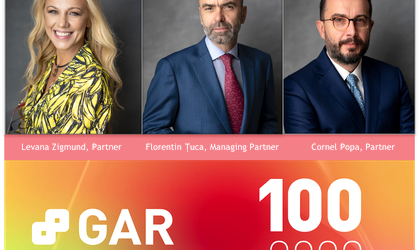 Reputable publication Global Arbitration Review has recently launched its 2022 edition of the "GAR 100", a guide to specialist arbitration firms worldwide.
This year once again, Țuca Zbârcea & Asociații has been included amongst the elite of law firms with a leading practice in international arbitration.
Țuca Zbârcea & Asociații remains one of the best law firms worldwide for international arbitration (IA) work, according to the latest edition of "GAR 100". The editors point out that the firm's lawyers are skilled at handling an extraordinarily wide range of IA cases with current value of pending counsel work reaching US$4.5 billion. Three of the firm's leading practitioners in this area are singled out: Florentin Țuca, Levana Zigmund, Cornel Popa. With 25 years of practical experience, they have an in-depth working knowledge of various arbitration procedural rules such as ICC, ICSID, GAFTA, the Romanian International Chamber of Commerce and UNCITRAL.
Anca Pușcașu (Partner), Cornelia Tăbîrță (Managing Associate) and Ruxandra Niță (Managing Associate) are also part of the firm's IA team.
As a matter of fact, Țuca Zbârcea & Asociaţii has a leading practice in Dispute Resolution, the firm's pre-eminence in this area being already acknowledged by renowned international publications, such as Chambers & Partners and Legal 500. More so, the firm is a recipient of the 2020 and 2021 "Law Firm of the Year in Romania for Dispute Resolution" Award by Benchmark Litigation Europe (a publication of Euromoney Legal Media Group), one the most coveted and prestigious international accolades for law firms specialising in litigation and arbitration.
Global Arbitration Review is the leading resource on international arbitration news and community intelligence. Its flagship publication – "GAR 100" – is a benchmark for the most skilled and successful international arbitration practitioners from all parts of the world. Firms are stringently researched and assessed to ensure that only the elite are listed.