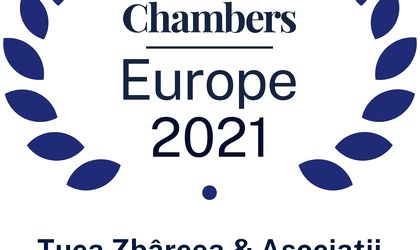 Țuca Zbârcea & Asociații has once again been recognised as one of the best law firms in Romania by the 2021 edition of Chambers Europe, released today. In addition, the firm has been recently shortlisted for the "Law Firm of the Year Award" at the 2021 Chambers Europe Awards.
Țuca Zbârcea & Asociații is at the very top of the profession as regards all major areas of law, according to the most recent Chambers Europe edition, the firm's lawyers being highly recognised for their outstanding work in complex projects, including litigation and arbitration. As such, the firm ranks first in Corporate/M&A, Dispute Resolution, Competition/Antitrust, Intellectual Property/Telecom, Media & IT (TMT). Also, the firm received top rankings in Tax, Projects & Energy, Employment, Real Estate and Banking & Finance.
Furthermore, Chambers Europe singles out our team's professional skills and excellence in client service, with 16 lawyers and tax advisors being named as "Leading Individuals" in this year's edition of the guide.
Țuca Zbârcea & Asociații has a "longstanding presence at the top end of the Romanian market" note the editors. As a matter of fact, in recognition of the firm's pre-eminence in the market, Chambers Europe has this year once again shortlisted Țuca Zbârcea & Asociații for the "Law Firm of the Year Award" at the annual Chambers Europe Awards gala. Țuca Zbârcea & Asociații is a multiple award-winning law firm, having won this prestigious trophy three times, including last year.
For nearly 30 years, Chambers & Partners has published the world's leading guides to the legal profession and has built a reputation for in-depth, objective research, covering 200 jurisdictions throughout the world. 316 submissions were received from Romania and 42 law firms made it to Chambers Europe's rankings this year.