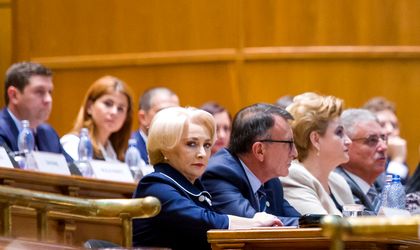 Romania's opposition parties failed to topple the PSD-ALDE government led by Viorica Dancila. The motion failed on Wednesday due to insufficient votes.
There were 166 votes for the motion and four against it.
The PM was in Parliament to defend her team of ministers: "You mystify the reality to serve your own political interests. You present the bad as good and good as bad. (…) For you, the increase of the minimum wage is an antisocial measure which is also against the economy, as some of your representatives argued in the open letter. For you, the exceptional economic growth that Romania had last year is the result of the inability and incompetence of the governing," said Dancila.
Several thousands of people protested outside the Parliament building, while MPs where debating the motion of no confidence. They called for the resignation of the government controlled by the center left coalition.
In a speech held before the vote, the head of the Union to Save Romani (USR) accused the government of doing everything to prevent Liviu Dragnea, PSD head, from being sent to jail.
Meanwhile, the president of the Democratic Alliance of Hungarians in Romania (UDMR), said the opposition didn't have any governing program to replace the current one.
The ex-president Traian Basescu said that if the government is not toppled, the PSD should decide to remove it.
The first vice president of the PNL, Raluca Turcan, asked the MPs of the ruling coalition to vote for the motion claiming that no government won against its own people.