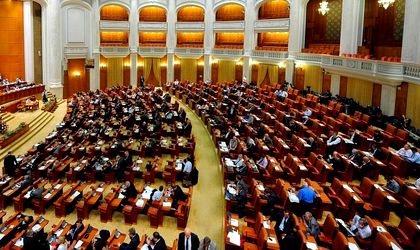 Romania's Chamber of Deputies has approved a raft of controversial changes to the Criminal Procedure Code on Monday evening, with the opposition announcing that the amendments will be challenged at the Constitutional Court.
The draft bill was approved with 175 votes, while 78 MPs voted against it and one abstained. The center left coalition PSD-ALDE currently holds the majority in Parliament.
According to one approved amendment, judges will issue a sentence for a defendant only when the court has the conviction that the criminal charge was proved beyond any doubt, according to Agerpres.
Another amendment states that if evidence from a recording is obtained illegally, the prosecutor has to destroy it and attach the confirmation of this move in the court file. In addition, the preventive arrest measure can be ordered only that there are solid evidence or clues. The "reasonable suspicions" notion for issuing a preventive arrest warrant has been removed.
The seizure of assets will be carried out only if there are clear evidence or clues that the assets were obtained through illegal means. The seizure of goods will be lifted if a reasonable period passes or if the administered evidence is not valid anymore.
Furthermore, suspects that are wiretapped will be informed by prosecutors about this measure up to 10 days after it was completed.
A separate amendment approved in the special Parliament committee that oversee the changes to the justice laws states that authorities will be forbidden from making public any kind of information about persons or charges included in criminal cases during the prosecution and trial stages.
The committee that worked on the amendments also included a change that establishes when the final court decisions can be challenged on the criminal side. MP Stelian Ion, a member of the Union to Save Romania (USR), claimed that this amendment will allow PSD head Liviu Dragnea to ask for a retrial in the file in which he got a 2-years suspended jail sentence.
Both USR and the National Liberal Party (PNL) said the draft bill that amendments the Criminal Procedure Code will be challenged at the Constitutional Court. The changes have to be signed into law by president Klaus Iohannis in order to become applicable.