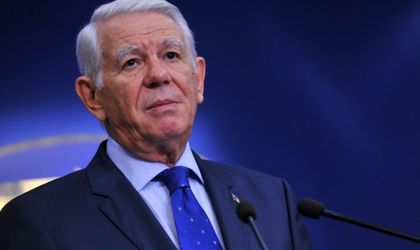 While over 50,000 people were protesting in Bucharest and other cities on Sunday evening, calling for the resignation of the government led by Viorica Dancila, the minister of foreign affairs, Teodor Melescanu took to Facebook to say that Romania remains committed to the Euro-Atlantic values.
The minister said that the street protests shouldn't turn violent, making an indirect reference to Friday' protest which resulted in over 400 injuries. Melescanu said he also regrets the injuries registered among protesters, journalists and law enforcement personnel.
"In the Centennial year, I wish that the tensions in the Romanian society do not escalate beyond the dialogue. In this festive year of our Union, we must remember that we are one people that we want to continue what our forefathers started in 1918.
I assure our Euro-Atlantic partners that Romania remains committed to our common principles and values ​​and will continue to act accordingly," said Melescanu.
A protest attended by Romanians from Diaspora on Friday quickly escalated into an anti-government rally the next day on the back of violent clashes between security forces and protesters.