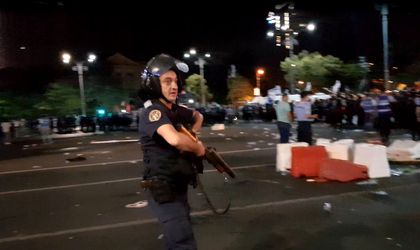 The general prosecutor of Romania, Augustin Lazar, says that all investigations into the violent clashes from Friday's protest of the Diaspora will be impartial.
Already, there were some 192 protesters that filed complaints against the Romanian Gendarmerie. The case is handled by the Military Court.
The General Prosecutor's Office said in a statement published on Facebook that all investigations will be "impartial", whether we are talking about civilian protesters or law enforcement agents that were injured on Friday night.
The investigations aim at clarifying the possible acts of negligence in the service and suspicions of abusive behavior, during the action of the gendarmes, namely the use, in the exercise of service duties, offensive expressions, threats and hitting or other violence, according to Lazar.
The investigations also cover any violence, theft, destruction, disregard of the regime of weapons and ammunition committed by persons participating in the demonstration.
More than 400 people received medical care during Friday's anti-government protest that was also attended by Romanians from the Diaspora. Riot police used tear gas to disperse the protesters after 11 PM from Victoriei Square. The move was approved by the prefect of Bucharest, according to media reports.
President Klaus Iohannis condemned the intervention of the gendarmes, pointing out that nobody has been held responsible up to now for the intervention.
Meanwhile, the Romanian Gendarmerie got a new head. High ranking officials from the Gendarmerie suggested that the intervention from Friday's protest didn't breach any law.