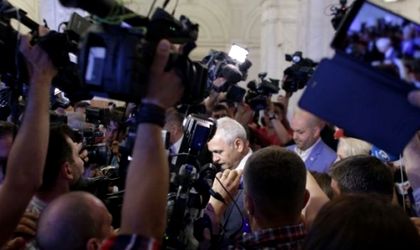 Things got a bit out of control today around the Parliament Palace and inside the building, with protesters clashing with members of the Social Democratic Party (PSD).
Nicolae Bacalbasa, member of the lower chamber (deputy) of Parliament and a representative of PSD was ambushed by protesters outside the building when leaving the Parliament. The MP was spitted on and pushed by the protesters in Izvor Park and it was necessary for the police force to intervene in order to stop the protesters to reach the deputy.
Bacalbasa was surrounded by the policemen, that have escorted him to the subway station.
"This is a form of urban terrorism organized by professionals," said MP. " I want to thank the police for doing their job, they took the punches while I was in the middle."
Protesters were, today, also inside the Parliament, where ten people shouted during the speech of PM Viorica Dancila. Afterwards, the protesters continued in the lobby of the building, booing the prime-minister and the president of PSD, Liviu Dragnea. Around five members of PSD made a human shield around Liviu Dragnea in order to keep him away from the protesters.
"These manifestations are fascist, this is how fascism and totalitarianism began in Europe. The Communists after the war have also behaved violently to gain power. As long as I am the president of the Senate, I am not willing to close my eyes, to make me not see and tolerate such attitudes," said Calin Popescu Tariceanu, president of the Senate.
People are now in the Victoriei Square protesting against the changes that the Parliament, ruled by a majority from PSD and ALDE, have made to the Criminal Procedure Code.