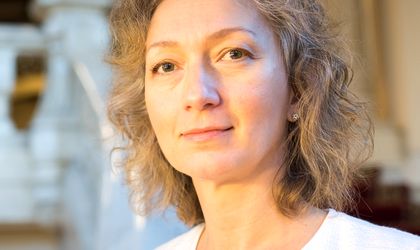 Presidential adviser Elena-Simina Tanasescu presented her resignation on Wednesday, the Presidential Administration announced. The reason for the resignation is the suspicion of interfering with the activity of the Constitutional Court.
"In recent days, public speculation has arisen about possible pressure on a Constitutional Court judge following a discussion by Mrs. Elena-Simina Tanasescu and Mr. Petre Lazaroiu. The Presidential Administration reiterates that there have been no pressures, and the accusations made in this regard are completely untrue. However, considering that it is inadmissible for the public opinion to raise any suspicion that an attempt to interfere with the activity of the Constitutional Court was possible, in order not to prejudice the institution of the President of Romania, Mrs. Elena-Simina Tanasescu submitted today, June 20 this year. President Klaus Iohannis approved her resignation from the role of  presidential advisor," the presidential administration said in a statement.
Last Friday, CCR judge Petre Lazaroiu said he was summoned by one of Iohannis' advisers, who told him that the head of state was urgently required by an association to issue a decree to dismiss him.
"I met with Mrs. Simina Tanasescu (presidential counselor – no) at her request. I was at the Law School, where she had exams, and I kindly asked her to come up with an ingrained mission to her. I have this paper (a request from the VeDem Just Foundation, requesting the president of the CCR, Valer Dorneanu, to discuss the mandate of Petre Lazaroiu – no.) I say: I know it's an aberration, it's been running for about two weeks, I do not I do not know, but I'm not sure I do not know what I'm saying, but we are in the situation where, if it does not issue this decree, sues that association, if it issues it, you sue us. I said, of course it will be," the judge told AGERPRES.
Subsequently, the Presidential Administration stated in a press release that Tanasescu had a technical discussion, without the involvement of the Romanian President's Institution, with the judge about the request of the civic association VeDem Just, underlining that any speculation or insinuations about any pressure exerted on the magistrate are completely untrue and unfounded.
On Tuesday, president Iohannis said that "there was a distortion for political reasons." "The whole matter was distorted for purely political reasons, I have no idea why Judge Lazaroiu has entered this game," the head of state said.
In the same day, according to sources, the Constitutional Court of Romania has decided to submit to the Venice Commission information about the meeting between Tanasescu and the constitutional judge.