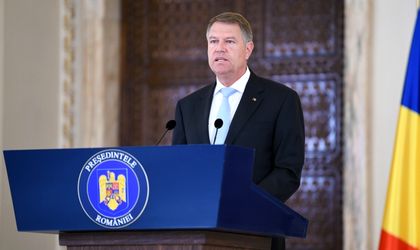 President Klaus Iohannis has signed the decree to promulgate the law for the change and completion of law 303/2004 regarding the status of judges and prosecutors.
In a statement released by the Presidency, Iohannis demands that the governing coalition urgently restart the legislative process for all the three controversial justice laws he has had to pass recently, and have real consultation with professionals in the field and using their expertise to align the legislation with the standards of the Venice Commission. He also says that the changes brought to the current legal framework in the judicial field are "a regression for democracy in Romania, a danger also signalled by our European partners, the European Commission and GRECO."
The Presidency's statement reads: "The president has warned repeatedly that a series of changes to law 303/2004, such as the new retirement rules for magistrates, the ways leading prosecutors are named or revoked, the expansion of the justice minister's prerogatives, the weakening of some professional standards, the introduction of subjective criteria for evaluating magistrates, the weakening of prosecutors' independence in fulfilling their constitutional role, all have a direct negative impact over the act of justice and its quality."
The statement also notes that, at the request of the Romanian president and the Parliamentary Assembly of the European Council, the Venice Commission issued a preliminary opinion on the justice laws, which will also be found in the final document to be issued in October. The opinion includes several ways in which the laws do not comply with democracy and rule of law standards. Furthermore, the president points out, the Supreme Court and the opposition parties have submitted nine unconstitutionality notices regarding this law's content, a law that is crucial for the justice system.
The president says that unlike the other two justice laws he has already signed, the lack of transitory provisions that would allow the phasing of the implementation of new rules regarding entering and exiting the profession of judge or prosecutor risk to endanger the stability and proper functioning of the justice system, through the blocking of activity in courts.