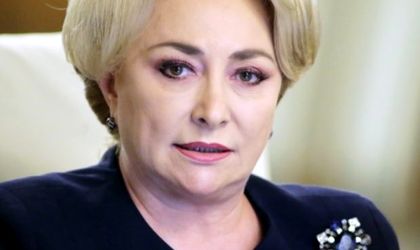 PM Viorica Dancila said Thursday, during the government meeting, that starting August 10 she has seen an assault against state institutions, with the prime target being the Gendarmerie. This was the first comment of the PM following clashes between security forces and the protesters.
The head of government said she wasn't taking any side but claimed that a person or an institution "can be accused only based on conclusive evidence."
"Starting with the events from 10 August, I've seen in these days an assault against some state institutions. The first target is the Gendarmerie, but there are also other institutions that are targeted," said Dancila, adding that the government has to respond in a "balanced and responsible" manner.
"Compared to the political leaders of the opposition, we don't have the right to give up and intensify this division in the society," the PM told the ministers.
More than 450 people received medical care due to violent incidents during the protest that took place almost 2 weeks ago. More than 200 people filed criminal complaints against security forces. In the last weeks, the Gendarmerie and the minister of interior suggested that the intervention of the gendarmes was lawful, adding that it was needed to prevent attacks of "hooligans." The operation of the riot police to clear Victoriei Square was condemned by president Klaus Iohannis.
Protesters had asked for the resignation of the government during the rally from August 10.