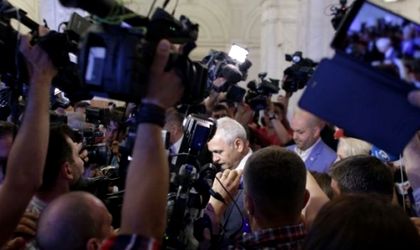 First reactions of politicians have started to emerge minutes after the head of the ruling party PSD, Liviu Dragnea, was sentenced to three years and six months in jail for instigation to abuse in office. Dragnea is also president of Romania's Chamber of Deputies. The sentence can be appealed.
Former PM Dacian Ciolos called for Dragnea to retire from public life.
"For the good of the country, in order to remain in a legal and moral order, the head of the Chamber of Deputies has to give up any lever of power," wrote Ciolos on Facebook.
Victor Ponta, ex-PM and former ally of Dragnea, said that the PSD head has to step down if he cares about the "faith of PSD, the government and of Romania."
Meanwhile, former president Traian Basescu also called for Dragnea's resignation from the helm of the Chamber of Deputies.
The leader of the National Liberal Party (PNL), Ludovic Orban, said that Dragnea should resign from all public roles. He added that if the head of the social-democrats doesn't retire from public life, MPs should vote the motion of no confidence initiated by the liberals against center left government led by Viorica Dancila.
Meanwhile, the Union to Save Romania (USR) said it a statement that "it is unacceptable for a criminal with two criminal sentences to remain in one of the most important positions in the state and to represent Romania."