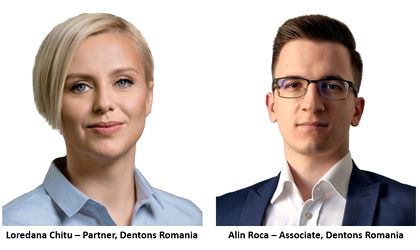 In the context of the Fintech and Capital Markets Union action plans, including general efforts to promote freedom to provide and benefit from crowdfunding services on the EU market, the Romanian Parliament recently passed Law No 244/2022, which sets out implementing measures for EU Regulation 2020/1503 on European crowdfunding service providers for business and amending Regulation (EU) 2017/1129 and Directive (EU) 2019/1937 (the Romanian Crowdfunding Law).
By Loredana Chitu (Partner) and Alin Roca (Associate), Dentons Romania
In this article we provide you with the main provisions of the Romanian Crowdfunding Law.
First some basics: Crowdfunding is …
… a way of raising money in which a crowdfunding service provider—without assuming the risk itself—operates a publicly accessible digital platform to connect, or facilitate the connection of, potential investors or borrowers with the members of the business community who are seeking funding. Such funding could consist of loans, the purchase of securities or other eligible instruments for crowdfunding purposes.
At the EU level crowdfunding is mainly regulated by the Regulation (EU) 2020/1503 of the European Parliament and of the Council of 7 October 2020 on European crowdfunding service providers for business (the EU Crowdfunding Regulation).
A crowdfunding service is thus the matching of business funding interests of investors and project owners through the use of a crowdfunding platform; it facilitates (i) the granting of loans or the placing, without a firm commitment basis, of transferable securities and instruments admitted for crowdfunding purposes issued by project owners or special purpose vehicles, and (ii) the reception and transmission of client orders in relation to those transferable securities and admitted instruments for crowdfunding purposes.
FSA as national competent authority with NBR involvement
According to the Romanian Crowdfunding Law, the FSA is the authority that authorizes, regulates, supervises and controls crowdfunding services providers, being also invested with all supervisory and investigative powers provided by law.
The FSA also has power to refer cases to criminal authorities and is obliged to cooperate with the NBR when an entity requesting crowdfunding authorization from the FSA already holds a valid banking authorization issued by the NBR.
Credit institutions can supply crowdfunding services only if they obtain authorization from the FSA and after prior approval from the NBR.
In terms of NBR powers it is interesting that crowdfunding service providers must submit reports to the Credit Risk Center—the Romanian entity that records credit risk information on borrowers (they also have the right to check the credit risk information available through the Credit Risk Center).
Some clarifications on the authorization process for crowdfunding providers
According to the Romanian Crowdfunding Law, providers of crowdfunding services must be established as a legal entity and must obtain an authorization issued by the FSA, which requires cumulative compliance of the conditions set out in the EU Crowdfunding Regulation.
The conditions include, among others, documents evidencing compliance with rules on:
Risk-management and accounting,
Safeguarding of data processing,
Safeguards against operational risk,
Prudential safeguards,
Business continuity,
Outsourcing,
Client services,
The need to have skilled and reputable management etc.
Authorization can be obtained within three months from receipt by the FSA of all required documentation.
The Romanian Crowdfunding Law specifies that natural persons involved in the management of a potential crowdfunding provider must have sufficient knowledge, skills and experience; this is deemed to be met if at least half of the members of the board of directors/ supervisory board or other bodies/ offices are graduates with a bachelor's or master's degree from a higher education institution in the fields of finance, banking, economics, law, accounting auditing, public administration or information technology and have at least three years of professional experience.
Crowdfunding does not equal lending
This long-debated topic, which had prevented the offering crowdfunding in Romania, is now clarified by the Romanian Crowdfunding Law, which sets out that the activity of project developers that, in respect of loans facilitated by a crowdfunding service provider, accept funds from investors under conditions of the Crowdfunding Regulation, is not subject to the provisions of Emergency Ordinance No. 99/2006 on credit institutions and capital adequacy.
It was also clarified that the granting of loans to project developers through crowdfunding platforms does not represent lending activities regulated by Law no. 93/2009 on non-banking financial institutions, except if loans are granted by a non-banking financial institution.
Crowdfunding documents are writs of execution
Loan agreements, as well as collateral and/ or personal guarantees covering repayment of the loans granted (concluded between investors and project developers through the crowdfunding service provider), constitute writs of execution.
Investor information and protection
Language
For crowdfunding offers addressed to potential investors in Romania, the key investment information sheet must be drawn up in Romanian, as a minimum.
Crowdfunding service providers from other EU Member States that promote an offer through advertising communications in Romania must use at least Romanian when making the key investment information sheet available to potential investors.
Advertising
All advertising communications, regardless of the form or manner of dissemination, must be presented by crowdfunding service providers in Romanian.
Advertising communications must be archived for two years (hard copy or digital) and must be made available to the FSA upon request.
There are special rules under the Romanian Crowdfunding Law regulating principles for advertising communications and advertisements broadcast via audiovisual media services.
Sanctions
The main sanctions for legal persons consist of a warning or a fine of RON 10,000 to RON 2,433,700, or up to 5 percent of the total annual turnover of the respective legal entity. The main sanctions for natural persons are a warning or a fine, from RON 5,000 to RON 2,433,700.
Complementary sanctions: In addition, members of the board of directors or supervisory board, managers or members of the management board or other equivalent bodies or functions of the crowdfunding service provider can be prohibited from exercising management functions at any crowdfunding provider for a period between 90 days and five years.
The FSA may withdraw its authorization (including cases where there is a material breach of law or the authorization conditions are no longer met).
Other minor sanctions also exist.
NOTE: Providing crowdfunding activities without the FSA authorization constitutes a criminal offence punishable in accordance with provisions of the Romanian Criminal Code.