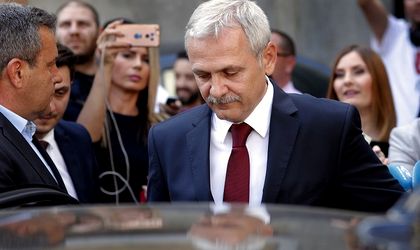 PSD president Liviu Dragnea has challenged a report by OLAF (the European Commission's anti-fraud body) at the EU Court in Luxembourg. The report had concluded that over EUR 20 million in EU funds were illegally obtained for road works by Tel Drum company in Teleorman County, according to Ziare.com.
Liviu Dragnea is under criminal investigation by anti-corruption prosecutors in the Tel Drum case.
According to the EU Court website, the "Dragnea v Commission case T 738/2018" was registered on December 12, 2018, but no other information is available about the case.
According to Ziare.com, Liviu Dragnea could no longer directly attack the OLAF report since it was too late, so he chose an indirect way of attacking the negative response he received from the European Commission for a notice he made regarding the OLAF report.
In a 40-page file, Dragnea claims that OLAF didn't ensure his right to be heard and his presumption of innocence when compiling the report.
OLAF report led to the opening of Tel Drum case
The Tel Drum case was opened following a notification sent by OLAF to Romanian prosecutors in September 2016, regarding suspicions that the company had illegally obtained EU funds for works on county roads.
OLAF calculated the damages in this case at about EUR 21 million and sent recommendations to the DNA to start prosecution of the individuals involved in the case.
DNA prosecutors say that those involved planned the action in several phases, based on their areas of interest, companies they owned and influence they could use. The first step, the DNA claims, was the privatization of Tel Drum and transferring its assets from the Teleorman County Council "to Liviu Dragnea's sphere of influence and control, through intermediaries."
Liviu Dragnea's prosecution officially started on November 13, 2017, under the accusations of creating an organised criminal group, using or presenting false documents or statements to illegally obtain European funds, as well as abuse in office by favouring Tel Drum in public contracts.
Dragnea's actions are claimed to have taken place while he was the president of Teleorman County Council.
In November 2017, prosecutors seized assets worth RON 127 million from Liviu Dragnea as part of their investigation.