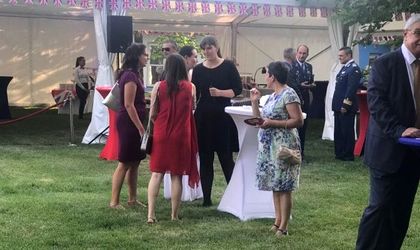 The head of the National Anticorruption Directorate (DNA), Laura Codruta Kovesi, attended a special event organized by the UK Embassy in Bucharest for the Queen's Day at BNR Arenas.
It's the first public appearance of Kovesi after the ruling of the Constitiutional Court. The constitutional judges ruled out that there was conflict between the government and the president over the request to dismiss Kovesi. The CCR concluded that Iohannis has to approve the removal of Kovesi from the helm of the DNA.
President Klaus Iohannis also arrived at the event.
"The very extensive motivation written by the CCR gives us some indications, raises some problems. We can not take the next step until we clarify what is being communicated to us in this reasoning," Iohannis said on Tuesday at Cotroceni.
The general prosecutor of Romania, Augustin Lazar, is at the same event. The minister of justice, Tudorel Toader, is also set to participate.
Kovesi has been leading the DNA since 2013.