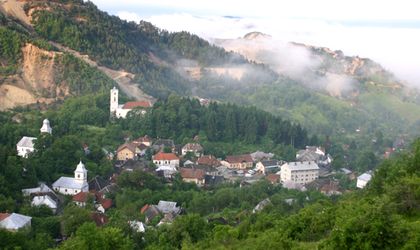 The minister of culture, George Ivascu, says that the government has proposed the delay of the inclusion of Rosia Montana Mining Cultural Landscape in the UNESCO World Heritage Centre network.
Ivascu said the delay is necessary until there is a final ruling in the case opened by Gabriel Resources against the Romanian state at the International Centre for Settlement of Investment Disputes (ICSID). The company claims USD 4 billion in damages from the Romanian state and the minister said that the government doesn't favor the option of paying this from the "pockets of citizens."
"Thus, the Romanian government doesn't request the withdrawal, but the delay of this until the ruling in the arbitration case nr. ARB/ 15/ 31 – Rosia Montana, for which on February 22 2018, the law firm representing the Romanian state submitted a defense position at the Washington Court of Arbitration. This subject has to be removed from the propagandistic approach and treated by all decision-makers in the Romanian state as a national security priority," said Ivascu.
The minister said that such a decision should have been taken within the Supreme Defense Council of the Country (CSAT).
The inclusion of Rosia Montana Mining Cultural Landscape in the UNESCO patrimony is on the agenda of the World Heritage Committee meeting taking place between June 24 – July 4 in Bahrain. The Romanian official present at the meeting is tasked with asking for a delay of such as move.
The arbitration case against Romania was recorded in 2015. The Canadian company claimed that the state blocked the start of a controversial mining project in Rosia Montana. Gabriel Resources said it secured a mining license for this perimeter back in 1999 and invested over USD 650 million in more than 15 years, but it wasn't able to obtain all permits to start the mining stage.
"In short, after among other things (i) granting the License, which carries not only the right, but the obligation to develop the mineral resource within the license perimeter to the maximum extent feasible, and (ii) consistently approving annual work plans, updated reports and studies leading to the current Project, Romania failed to address Project permitting in a reasonable and transparent manner in accordance with standards of due process," said the company in the arbitration request.