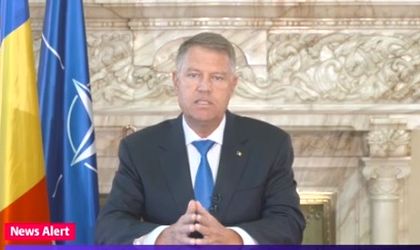 President Klaus Iohannis has accused the ruling coalition PSD-ALDE of "abusing" their position won in the elections to attack the population, the justice and to "derail Romania from its European and Euro-Atlantic path", making reference to the violent intervention of the gendarmes from Friday's protest in Bucharest.
The head of state has underlined that nobody has been held responsible for Friday's events although three days have passed since the violent clashes between the security forces and the protesters.
Iohannis went on to say that the "attack of innocent people, journalists, women and children is inconceivable in a European state, and those responsible have to be identified."
The president also called on the civil society to be "alive and vigilant", adding that this not an appeal to "revolt" but to "responsibility and involvement."
Iohannis said that in any "responsible country" from a leadership perspective, "until now we would have had at least one resignation."
The minister of interior, Carmen Dan, has previously stated that the riot police clashed with hooligans that were hiding among peaceful protesters. More than 400 persons received medical care following Friday's protest that gathered around 100,000 people near the government building. Romanians from the Diaspora also took part in the rally.