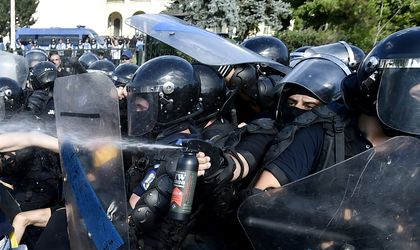 Several people with management positions in the Romanian Gendarmerie, including Catalin Sindile and Sebastian Cucos, were called to the General Prosecutor's Office on Friday to be made aware of their suspect status in the case related to the violent confrontation between gendarmes and protesters on August 10 in Bucharests's Victoriei Square. They have been indicted for abuse in office and forgery. 
Catalin Sindile is the current head of the Romanian Gendarmerie, while Sebastian Cucos held the same position until the days following the protest, when he resigned. He is now the prime-deputy of the institution.
The leader of the Bucharest Gendarmes and coordinator of the August 10 actions, Laurentiu Cazan, was also indicted.
Military prosecutors opened a criminal case to investigate the gendarmes' intervention during the August 10 protest. 770 criminal complaints were submitted by victims of gendarme aggression.
On the other hand, gendarmes also submitted a claim at the DIICOT claiming that the protesters had attempted a coup d'etat.