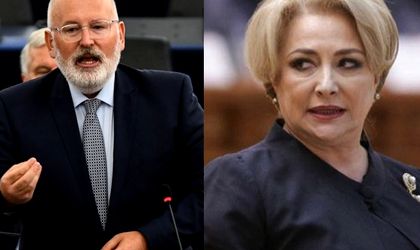 Romania and Bulgaria should have solved their issues related to the rule of law before joining the European Union, Frans Timmermans, the vice-president of the European Commission, stated today, during a debate on the rule of law in the College of Commissioners. The EU official warned the Romanian government to avoid taking measures that would affect the judiciary system or that would give immunity to high officials who have been convicted for corruption.
"In Romania, on the basis of CVM, there has been huge progress in the fight against corruption. Now there is a fight back against that progress. We need to make sure that this is not reflected in legislation. The CVM was created to solve some problems that should have been solved before joining the EU. The accession of Romania and Bulgaria happened in 2007 and we still see issues that have not been solved. This is a lesson for the EU, that issues of rule of law should be solved by the states before they joined the EU. The assumption made back then, that issues could be solved after becoming a member state, was an optimistic one," Timmermans stated.
The EU official said he had several discussions with prime minister Viorica Dancila, in which he demanded urgent results. "I showed her very clearly that talking for the sake of talking is not enough and that urgent measures need to be taken as soon as possible," he stated.
"Unfortunately, we have not reached the conclusion that Romania is on the right track," he added. He also said that the European Commision is ready to act on it in days, if needed. "We cannot take measures against an emergency ordinance that has not yet been approved," he explained.