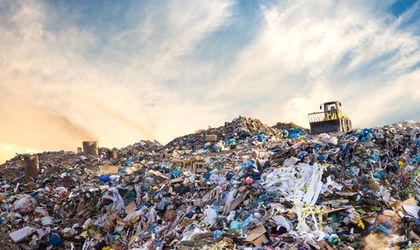 The European Court of Justice (ECJ) found Romania guilty on Thursday for failing to fulfil its obligations related to Directive 1999/31/EC on landfills. 68 non-compliant landfills are still open in Romania, despite the fact that they should have been closed and rehabilitated by July 16, 2009.
This is the second case where the ECJ finds Romania guilty for not complying with EU legislation. The first case was also related to the environment and involved the Moldomin exploitation.
Thursday's decision does not bring any financial obligations to Romania, except the payment of court expenses. Romanian authorities must now take measures to comply with the Court's decision. If that doesn't happen, the European Commission can resend the case to the ECJ, which is when financial sanctions could be imposed.
"Given the fact that it did not comply with the obligation of taking all necessary measures to close the 68 landfills as soon as possible according to article 7(g) and article 13 in Directive 1999/31/EC regarding landfills, Romania did not fulfil its obligations resulting from article 14 (b) and 13 of the Directive 1999/31," the ECJ decision reads.
The document shows that the European Commission sent a default notice to Romania in March 2012 related to a non-compliant municipal landfill, which was still being exploited. Following the response Romania gave on this matter, the Commission conducted a study in order to obtain an overview of the landfills in Romania that should have been compliant with Directive 1999/31.
"As a result of this study, the Commission sent Romania, in April 2013, another default notice referring to 20 landfills. Considering that Romania's response in August 2013 regarding these landfills did not clearly state whether waste dumping was being done on those sites, the Commission sent the member state a reasoned notice in February 2014. Romania responded in April 2014, showing that the situation had evolved since the study had been conducted and also sent an updated list of the landfills that had not yet been closed in May 2014. In October 2014, the Commission sent a second complementary default notice to Romania, as it believed the country had not fulfilled its obligations. The response to this notice did not persuade the Commission, therefore another reasoned notice was sent in September 2015 regarding 109 landfills. Following the response by Romania to this new notice, the Commission observed that the member state had taken measures for some of the landfills, but that the Directive was not followed for 68 of them. As a result, the Commission introduced the ECJ case in May 2017," the document reads.
Member states must recover and eliminate waste in ways that don't endanger human health and the environment, and abandoning, dumping or uncontrollably evacuating waste is forbidden.
Photo: dreamstime.com