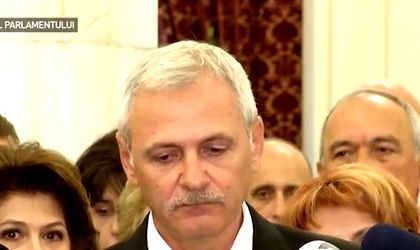 The head of the Social Democratic Party (PSD), Liviu Dragnea, said he will not resign in a statement that came one day after judges at Romania's High Court handed him a jail sentence of 3 years and six months for instigating to abuse in office. The ruling of judges can be appealed.
Meanwhile, Dragnea said he will stay in power and will not leave PSD's leadership or the position of speaker of the Chamber of Deputies.
In a brief press statement made in Parliament, with ministers and PSD leaders on his sides, Dragnea said that "we have witnessed a mass execution".
"We have decided to be more firm and more radical with what we have to do," said Dragnea.
The PSD head suggested that the ruling coalition PSD-ALDE will accelerate the process of amending the justice laws. The controversial changes to the justice laws have triggered street protests in the past few months and many of the amendments have been attacked at the Constitutional Court.
The head of the social-democrats went on to say that he is "not scared" of president Klaus Iohannis, of Eduard Hellvig, the head of domestic intelligence service SRI or Laura Codruta Kovesi, the chief prosecutors of the National Anticorruption Directorate (DNA).
While leaders of PSD and government officials claimed they will stay by Dragnea's side, claiming he is still innocent, opposition leaders have all called for his resignation from all public positions.