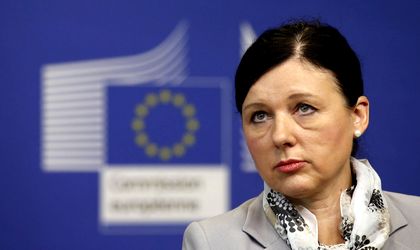 The European Justice Commissioner Vera Jourova will be in Romania Monday and Tuesday next week, according to the answer she gave to Business Review. The official confirmation should come later this week. She will discuss with Romanian officials the details from the CVM report that will be published tomorrow afternoon.
"We advised Romania on what would be the desired way out of the Justice crisis and we still have to publish the CVM report, which contains a very complete recommendation on how to keep a high quality of the judicial and prosecution system, and I am looking forward to further dialogue with Romanian representatives," she told Business Review last week.
According to information published by G4Media and RFI, the report will be more favorable to Bulgaria than Romania, since our country fulfilled only 2 out of 12 recommendations made by the European Commission.
Among the new recommendations of the European commission is the immediate halt to the implementation of the justice laws created by the Iordache Commission, as well as the emergency ordinances issued by the Dancila Government, stopping the implementation of the Criminal and Criminal Procedure Codes and relaunching the process to appoint the head of the DNA with the promotion of prosecutors with experience in the anti-corruption field.
In the interview Jourova gave Business Review last week, she reiterated that independent judges are an essential pillar of the country's democratic development. She also explained that her messages had been misinterpreted by the Government's officials. "I had strong messages for Romania, but I've sent such messages for all member states. An independent judiciary is the basic pillar of democratic development of any country. Independent judges are a strength for every country. My messages towards Romania were unfortunately interpreted as pessimistic. They were not meant like that. My message was that managing the EU presidency along with these domestic issues would be a very hard job – that's what I said", Jourova stated.
Senate president Calin Popescu Tariceanu talked about the CVM report on Romania TV: "The CMV report is coming and you'll see there are crazy things in it," he said, explaining that Romania "should not be getting observations from some people as if we were school children."