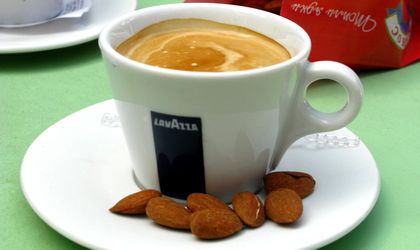 Lavazza Group, present in Romania, recorded total revenues of EUR 1.87 billion in 2018, up 9.3 percent compared to 2017, and EBITDA of EUR 197.3 million, up 6.2 percent. Net profit was EUR 87.9 million, up 12.9 percent compared to EUR 77.9 million in 2017.
"2018 was a year of growth, driven by increased operational profits, brand consolidation and massive expansion in both Italy and foreign markets, especially in France, North America, Eastern Europe and the UK," said Antonio Baravalle, CEO of the Lavazza Group. "We continued to invest in innovative products and thanks to the takeover of the Australian Blue Pod and Mars Inc. Drinks Division that activates in the automated beverage sector we have consolidated our operations in all segments of the coffee market. Internally, we have adopted advanced risk management systems and made changes to the management team by appointing Enrico Cavatorta, an experienced international business manager, as Chief Financial and Corporate Officer. Our ambition is to continue our expansion in 2019, both through the integration of our acquired companies and the organic growth of the Group."
Consolidated revenues amounted to EUR 1.87 billion, up 9.3 percent compared to the 1.71 billion registered at the end of last year. This growth is due both to the integration of the 2017 acquired companies (Nims, Kicking Horse and ESP) and to the good performance of organic products, especially in the markets of Italy, France, North America, Eastern Europe and the UK.
In Italy, which accounts for 36 percent of total revenues, the Lavazza Group has maintained its leadership position on all channels due to the expansion of the disposable product range, which continues to be the most dynamic of retail, but also due to the commercial operations of the Out of Home segment.
The EBITDA of the Lavazza Group amounted to EUR 197.3 million, up 6.2 percent compared to 185.8 million in the previous year, with an EBITDA margin of 10.6 percent. The adjusted EBITDA is EUR 206.5 million, up 9 percent before the exact acquisition costs. Operating profit (EBIT) of EUR 110.7 million is 2 percent higher than the EUR 108.5 million recorded in 2017, with an EBIT margin of 5.9 percent. The reported net profit is EUR 87.9 million, 12.9 percent higher compared to EUR 77.9 million in 2017.
Several acquisitions in he last years
In 2018, the Lavazza Group continued its international development strategy aimed at enhancing its global independence and competitiveness as well as its mission to be a premium coffee company.
During the year, the Group completed the integration of Nims, Kicking Horse Coffee and ESP. In line with its global development strategy, Lavazza has acquired two other automated distribution companies. Thus, in July 2018, the Group acquired the Blue Pod Coffee Co., an Australian company specialized in the distribution of espresso espresso systems (capsules and appliances) for the OCS sector ("Office Coffee Service").
In December 2018, the Group also completed the acquisition of Mars Inc.'s coffee division. (now Lavazza Professional) from North America, Germany, Great Britain, France, Canada and Japan, as well as associated production units in the United Kingdom and the United States. Lavazza Professional includes Flavia appliances and KLIX beverage vending machines, 2 companies with a large number of vending machines, and an extended portfolio of coffee and other beverages on those markets, sold under either proprietary names (eg Alterra) or under licensed brands. The two acquired companies generated sales of approximately USD 350 million in 2017 and have approximately 900 employees.
These purchases have enabled Lavazza to consolidate its direct operations across all segments of the coffee market, especially in the out-of-home segment, and are even closer to the final consumer.
Inauguration of Nuvola, the new Lavazza headquarters in Torino, in 2018, resulted in an investment of over EUR 120 million. Architect Cino Zucchi's project has given a new face to Torino's Aurora neighborhood and is an ecosystem designed to inspire people by giving them the opportunity to enjoy together a multitude of cultural, social and tasteful experiences. Nuvola Lavazza is, at the same time, recognized as one of the most sustainable buildings in the world, through Platinum LEED certification.
Established in Turin in 1895, Lavazza is owned by the four generations of the Lavazza family. Considered one of the most important coffee roasters in the world, the Group currently operates in over 90 countries through a vast network of own subsidiaries and distributors, with 64 percent of revenue generated by Italian foreign markets and about 4,000 employees. Among the Lavazza Group companies are Carte Noire of France and ESP (purchased in 2016 and 2017 respectively), Merrild from Denmark (2015), North American Kicking Horse Coffee (2017), Nims of Italy (2017) and Blue Pod Coffee Co in Australia (2018). At the end of 2018, after a purchase, Lavazza Professional Business Unit was created and includes the OCS (Office Coffee Sector) segment and the Flavia and Klix automated drink machines.