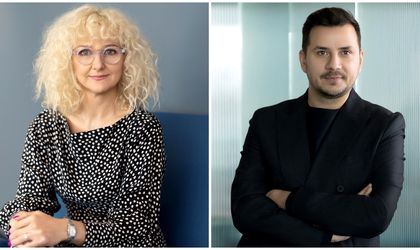 KRUK Group, the largest debt management company in Central and Eastern Europe, operating in seven states, invested about 90 million euros in Romania last year, up by 146% compared to 2021.
The acquisitions of portfolios on the Romanian market had a share of 18% in the Group's total investments.
"The portfolios available for acquisition were primarily from the area of non-bank loans and utilities, as a result of limited tax deductibility, as well as the decrease in the NPL rate for bank credits below 3%. However, 2022 was the greatest year in KRUK's history; the Group has managed the debts of over 2 million Romanians and has reached a new record high in Romania, in its 16 years of activity, aiding almost 600,000 Romanians in paying off their debts in full", declared Cosmina Marinescu, CEO KRUK Romania.
According to the company's data, the non-performing loan portfolios on the balance sheets of Romanian banks total over three billion euros, with a steady decrease over the last five years.
In 2022, portfolios of unsecured retail and corporate debts with a total nominal value of more than 600 million euros were sold in our country, based on the company's estimations.  KRUK acquired over 100 local portfolios of receivables, mostly retail, and thus reached 77% market share in terms of investments on the Romanian market. Over 25 million euros of the total amount invested in Romanian acquisitions are attributed to the transactions concluded in the last part of 2022. The amounts recovered from the locally managed portfolios amount to over 100 million EUR and represent 23% of the total amount recovered at Group level. In fact, in 2022, KRUK reported the highest volume of recoveries in its history, with increases recorded on each segment of acquired portfolios.
The total value of the portfolios purchased in Romania increased by 42% compared to the previous year, reaching over 250 million EUR, which represents 19% of the total portfolios held by KRUK Group at international level.
Also in Romania, KRUK has made significant progress in terms of its digital objectives and responsible governance. The company managed to obtain ISO 27001:2013 certification for information security management, which guarantees the reduction of operational risks, a technical environment suitable for compliance with GDPR rules and the formation of an optimal framework for digital transformation. Online payments increased by over 60% in 2022 compared to 2021, and 77% more customers manage their own debt in the e-kruk.ro digital platform.
"In addition to the 60% increase in online payments, we managed to triple the number of electronically signed payment commitments from 30 to 90% in 2022. The fact that more and more customers are accessing our digital services and products confirms that we can catch up with Western countries in terms of these skills. KRUK consultants help clients to use our online tools from the very first interactions; this is where the digital education begins, which, as you can see, brings results", adds Liviu Costică, COO KRUK Romania.
One of the company's goals for the next two years is to increase the number of employees with cybersecurity skills by 90%, providing them with training programs in this regard. Also by 2025, the company aims to increase digital and financial inclusion, by continuing to invest in trainings and social responsibility projects. Just last year, KRUK Romania, together with its partners, offered support to financial literacy programs for over 9400 young people.
In terms of environmental goals, in 2022, the company managed to reduce water and electricity consumption by more than 50% as a result of office area reduction by more than 2000 square meters. It has also prevented the cutting down of more than 180 trees through its paperless strategy and aims to reduce its carbon footprint, at group level, with 70% by 2040.