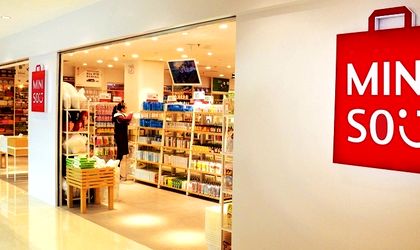 The Japanese Miniso retailer, with a turnover 0f USD 1.8 billion in 2017, has entered Romanian market and intends to open more than 40 stores.
Miniso is specialized in the sale of traditional food products, personal care and home care, marketed as a startup with one of the fastest growing extensions, reaching only 5 years, especially due to the low prices at over 3,000 stores.
The first 5 stores will be opened this year in Bucharest's malls, and by 2020, according to plans, the company will exceed 40 stores in the country.
Miniso was founded in Japan in 2013 and has today opened more than 3,000 stores in around 60 countries and regions, including the United States, Canada, Russia, Singapore, United Arab Emirates, Korea, Malaysia, Hong Kong ).
The philosophy of the low-cost retailer is to update the products sold once a week and to sell them at between USD 1.5 and USD 30. Against this background, the retailer's business has risen steadily, from USD 750 million in 2015 to USD 1.8 billion in 2017.
Nowadays, Miniso has reached strategic cooperation agreements with more than 60 countries and regions such as the United States, Canada, Australia, the United Arab Emirates, Singapore, Hong Kong (China) and Macao (China), and has opened more than 2,600 stores worldwide.
Miniso wants to open 10,000 stores in 100 countries with one hundred billion global turnover by 2020.