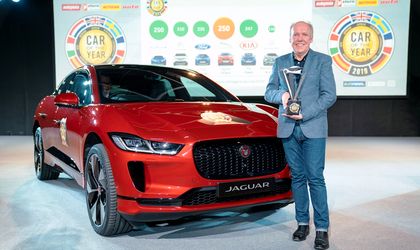 Jaguar I-PACE won the European Car of the Year Award and became the 2019 Car in Europe. The voting committee, 60 specialist journalists, chose Jaguar electric SUV at the expense of six other finalists and the car was the only one with zero emissions among the finalists.
Jaguar I-PACE was named the Car of the Year at the European Car of the Year Awards 2019. This is the first year when Jaguar won the coveted prize of the entire industry at European level. The European Car of the Year jury consists of 60 profile journalists from 23 countries and the award recognizes technical innovation, design, performance, efficiency and price-quality ratio.
"We are extremely proud that our first electric car is also the first Jaguar to win the European Car of the Year. I-PACE has been designed and developed in the UK from scratch. From a technological point of view, it is the most advanced electric vehicle powered by the battery. It really changes the rules of the game! The European Car of the Year award is a true honor and recognition for our global team," says Prof. Dr. Ralf Speth, Chief Executive Officer, Jaguar Land Rover.
Designed and developed in the UK, Jaguar I-PACE has a real worldwide sales success with over 8,000 deliveries to customers so far, 75 percent of them in Europe.
The car has been designed to maximize all the benefits of an electric motor and an aluminum architecture, proving the performance of a sports car and the utility of an SUV.
I-PACE has received 55 world-wide awards since its launch a year ago, including the Car of the Year in Germany, Norway and Great Britain, EV of the Year TopGear Magazine, Green Car of the Year in China and ECOBEST Award offered by Autobest.