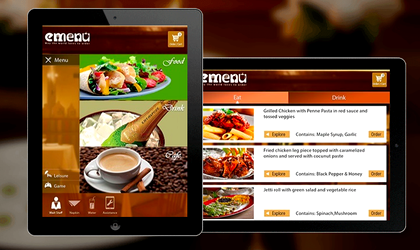 You step in a restaurant and instead of the probably oily paper print menu, with barely no information about what you are going to eat, you receive an iPad with the menu. There you have incredible good looking photos, information about the calories and how it's made. Is that even possible in Romania? Yes. I just experienced this type of menu in Cafeneaua Verde from Timisoara and at Aubergine in Bucharest and although it was almost awkward at the beginning, it took me a few seconds to become a fan of it. Later on, I met Alexandru Balan, the co-founder of eMenu. Are the Romanian HORECA services about to change? Business Review tried to find out. 
How did you start the project?
Like most projects, we started out by trying to fill a gap in the market. How we've come to identify this gap is really the funny bit and we've always compared it to Newton's urban legend of discovering the concept of gravity when an apple fell on his head. One day while ago we – I, together with the CEO of eMenu Romania, Cristian Cotabitiu – were sitting in a restaurant, having just finished lunch and wanting to ask for our check, we raised our hand but the waiters kept walking by like they didn't see us. After five minutes of waiting we got slightly annoyed and started wondering if there isn't a technology out there that takes care of this problem. After doing some research we discovered that could be just one of the many improvements a digital menu can bring to a restaurant, so we set out to bridge that gap.
Who is the team behind?
The team in Romania consists of young enthusiastic people, with the oldest person in our company being 28 years old. The software is developed in India and we have our development team over there. Here we have two technical specialists, two sales agents, one marketing and PR specialist and two in Management. We are covering all 10 locations we are currently working with throughout three cities and practice the best customer service.
Why an eMenu instead of the classical one?
Because of Millennials, what they want and how they want it. Everything now spins around technology, so why not a restaurant menu? Social media is filled with pictures and videos of food, practically giving restaurants no other choice than to take pictures of their menu. But until now they could only use these pictures online, therefore the eMenu brings the online and the offline together. Furthermore, tourism has been on a constant rise in the past few years, so restaurants see themselves having to print their menu in more than one foreign language. Here the eMenu lets them have translations in virtually as many languages as they want to, without turning the menu into a tome. Other benefits include flexibility (changing the menu without any cost, be it either the entire menu or a few items), a variety of upselling options, additional food information (calories, weight, preparation time), Trip Advisor rating, food rating, feedback and many more.
Are HORECA owners interested in your project? Where can we find the eMenu?
We are happy to say yes, in the beginning however, because the technology and the concept were so new, owners were understandably skeptical. But once we were given the chance to prove its worth, the project took off. We've seen an increasing interest in this technology and currently we can be found in 10 restaurants throughout the country, six in Bucharest, namely Fior di Latte, Studio 80, Zen Fusion, Aubergine, El Torito and Nan Jing.
We all know that a photo says more than a thousand words. Is your photo shooting accordingly to what we receive in the plate? Did you have complains on the matter?
Yes, it's one of our core principles, to put photos in the menu that reflect exactly what the client will be served. It's a great sentiment of reassurance clients get when they see what is being put in front of them, they trust the restaurant more and trust is extremely important in this business and the number one factor in client retention. I have to admit it's been a steep learning curve and in the beginning when experimenting with the digital menu we have used images with products that looked nothing like was about to be served and clients did not appreciate that, thus turning it into our number one rule. We have our own photographer who is specialized in product photography, so the owner doesn't have to lift a finger and still get the best quality.
What's next for your project?
eMenu is shooting for hotels and the project is challenging the status quo as we did with restaurants. However, this time, the aim is not their restaurants, but their rooms and their room service management. Our application is not only available for iOS and Android, but also for Windows, so we can design a menu for every room's TV. No more paper wasted on small menus that get lost under the furniture and have to be reprinted every week. With this option, the guest can have the full menu on the TV, with dazzling pictures, in any language he wants, having the option to check hotel amenities and services, all whilst having full internet access to verify any tourism related information he might please.