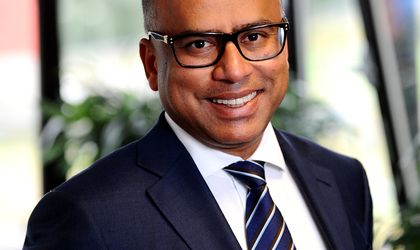 British-owned Liberty, part of Indian-born British mogul Sanjeev Gupta's global GFG Alliance,  announced on Friday conditional agreement to buy four European steel plants, including ArcelorMittal Galați plant. 
"In a landmark transaction that would take Liberty's total rolling capacity to over 15m tonnes a year, the Group has made a binding offer to buy ArcelorMittal's major integrated works at Galati in Romania and Ostrava in the Czech Republic, along with rolling mills at Skopje in Macedonia and Piombino in Italy," Liberty said.
The deal is subject to approval by the European Commission and other local processes including the conclusion of information consultations with local and European Works Councils.
Executive chairman of the GFG Alliance, Sanjeev Gupta, said: "At a stroke these acquisitions would almost double the size of our workforce and global production capacity, giving us a strong presence in the heart of Europe's key manufacturing regions. We intend to work with local partners to position ourselves strongly within the domestic supply chains of these fast-expanding national economies and become a pivotal part of a thriving European industrial sector. These are high-quality assets with highly-skilled staff whom we're looking forward to welcoming into the GFG Alliance."
Adding these major steel hubs more than doubles Liberty's global metal manufacturing capacity, which already includes a strong position in the UK as a steel and aluminium supplier to the automotive, aviation and specialist engineering sectors and in Australia supplying steel for building and infrastructure.
The Group also makes steel in the USA for the automotive and other sectors.
The new European assets would boost Liberty's capacity across a full range of flat and long products and pave the way for the Group to develop further its primary and Greensteel sustainable production models in the Continent's industrial heartlands.
This announcement follows the recent roll-out of Liberty's investment programme in France, where it has acquired the country's last remaining aluminium wheel maker and agreed to purchase Europe's largest aluminium smelter at Dunkerque; a deal expected to complete shortly.
Liberty secured preferred bidder status for the ArcelorMittal European plants against competition from other producers after the company put the profitable assets up for sale as part of an agreement with EU competition regulators to clear the way for it to purchase Italian steel giant, Ilva, Europe's largest producer of flat carbon steel.  Liberty has worked closely with ArcelorMittal to prepare a transaction that satisfies the demands of the EU Commission and creates a secure future for these businesses within the GFG Alliance.
Following completion, Liberty intends to continue investing in the assets – which already have many leading-edge facilities – and aims to achieve greater competitiveness through low-carbon production and closer integration with added-value downstream manufacturing, as part of its GREENSTEEL strategy.
In addition, Liberty and the wider GFG Group aims to develop close working relationships with respective governments, trade unions and other local stakeholders in order to optimise the value of the steel assets for the regional and national economies.
The four sites in the package have a combined rolling capacity of around 8m tonnes a year and would give Liberty the ability to supply a full range of finished steels including; plate, hot rolled coil, cold rolled coil, galvanised sheet, tin plate, bar, wire rod, and rail.
The plants serve domestic and wider European markets, including automotive, construction, industrial machinery and oil and gas sectors.
"Following relevant approvals for this transaction, the GFG Alliance will have a number of new global hubs in Europe.  These steel operations are high-performing, profitable assets with modern equipment, excellent transport connections to key markets and high-skilled workforces. There is huge potential for expansion, further modernisation and the application of GFG's Greensteel strategy," Jay Hambro, chief investment officer of the GFG Alliance, said.
ArcelorMittal, the world's biggest steelmaker, has had to put six European assets up for sale to get approval from European Commission for its purchase of Italy's giant Ilva plant.
ArcelorMittal's steel plant in Galati is Romania's biggest steel plant, with around 5,600 employees, and is the largest of the six assets.
According to the European Commission, ArcelorMittal has agreed to provide an undisclosed amount of financing to the buyer of Galati to ensure that its steel output grows and the plant remains viable and competitive.
Galati steelplant has crude steelmaking capacity of 3.4 million tonnes per year and rolling capacity of 6.2 million tonnes.