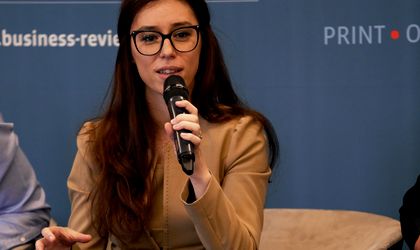 One of the most important aspects for employees today is flexibility, said Roxana Abrasu, Managing Associate, Employment Practice at NNDKP, at BR's Working Romania conference. 
"There is indeed a concern among employers to respond to candidates' needs, and the most important thing is that employees want flexibility in terms of work schedules and locations. In 2018, Romanian authorities provided more legal options for employers offering flexibility – we're in the technology era, which opens up new possibilities.
Teleworking can be implemented in many areas, especially for IT-related jobs, according to Abrasu.
The law says that remote workers must have at least one day a month when they work elsewhere than the office. Parties can agree to both a fixed office and another location. Teleworking is not easy to deal with for the employer, as it involves certain formalities like work safety. The employer must ensure that when someone's not at the office, all the legal requirements are being met, otherwise they can have issues in the case of an accident.

Remote workers are more difficult to follow; before teleworking, there were mobile agents, who weren't all of good faith and many would do other things during working hours. In practice, there are still unfortunate situations where employees don't do what they're supposed to do when they work remotely. As an employee you choose your work schedule when working from home – but you have to be fair in this sense and not slack off.
A decade ago, Abrasu added, managers would look at the time spent by employees at work, but now this factor is not as important, because the labour market has changed significantly.
Note that teleworking is done only by employees who work with information technology – we know that all of them do this now, but this has to be written in the contract.
She also addressed some of the legislative issues that may come up for companies regarding employees who work remotely.
In other countries, there are rules that say that the employer must ensure that their remote workers have the same type of office and physical conditions at home or at the other locations where they operate, but Romanian legislation does not have such requirements. However, there is still a component of health & safety in remote working here – workers have to inform employers about the potential risks they can encounter outside the office, while employers have to do a risk assessment and all the due diligence involved, so the responsibility is shared.