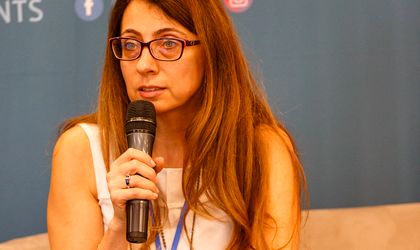 Nevenca Doca, HR Executive Director at Banca Transilvania, said during BR's Working Romania conference on Tuesday that letting employees know that the company cares about them and promoting collaboration and the feeling of community are the most important things for younger employees, even though they seem to be more interested in technology than in human connection. 
"I could write an entire PhD thesis on the way companies should adapt to the needs and demands of young generations. Most of our employees are millennials, so we've had a lot of experience. Paradoxically, although they like using technology for everything, including for social interaction, and do that very well, when you really listen to them you find that they need someone to talk to who will really listen, and they want to know that someone's taking care of them.

The only solution to the complexity we see today is collaboration, cooperation. Going from IQ to EQ and WeQ: social intelligence, community, inclusion. From an anthropological perspective, we humans lived in tribes of various sizes in the beginning, and members of the tribe took care of each other. But we've forgotten how to do that these days.

In our performance management process, we've experimented with different indicators over the years, and the worst outcomes were seen when we eliminated teams and instead used individual rewards.

Every six months at BT, every employee evaluates their manager. Depending on the feedback, they go through various mentoring or coaching programmes. We came to this solution after we understood that we often aren't aware of the influence we have over our colleagues. Even though we treat them the same, we have to acknowledge that they're different and our behaviour can be perceived differently, too. And knowing that people around you care is very important, even more important than the salary or other factors."
Nevenca Doca also talked about some of the HR policies implemented by Banca Transilvania, including a form of sabbatical leave.
"This year, BT celebrated its 25th anniversary. Although it looks like a corporation in terms of size, our DNA is not that of a corporation. The group has over 10,000 employees, including 1,400 in Moldova, and about 75 percent of them are women, which means that at any point in time we have between 700 and 800 women on maternity leave, but only 3-4 men on paternal leave. Therefore, our policies are more focused on women, but we do have some that are accessible for all employees, including a 3-month sabbatical after 10 years of being a part of the team, which is paid at 50 percent of the usual salary.

We have a very low employee turnover rate for middle and top management, and while that's a great advantage it also comes with a very high burnout risk, so the sabbatical leave policy helps us avoid that issue. It's a highly appreciated benefit, as people get a chance to rest and to reset. Our colleagues have used it on spending time with their families, hobbies, reskilling, traveling – things that they didn't want to wait until retirement to do.
She also detailed a cancer screening package provided for all employees at BT, which has helped save lives.
"In 2017, we developed a project that provided screenings to detect cancer cases. We had had a growing number of cancer cases, at younger and younger ages, including among employees' children; that's when we decided that we needed to do more, and established protocols to detect cancer – 4 for women and 3 for men, based on World Health Organisation recommendations. We had over 4,000 colleagues who did at least one of these investigations. Of them, 350 found malignant changes in early stages and sought minimally invasive treatment. But 51 found out they had various forms of cancer in much more advanced stages (3 or 4) and immediately acted, which prolonged or saved their lives. The most touching moment of this process was reading the end of the medical report, which said that through this policy, BT was able to save 400 lives and impact 400 families."