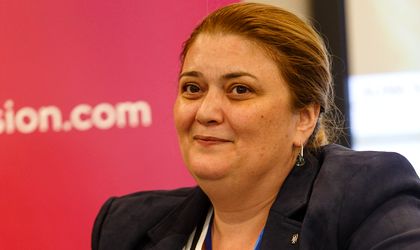 Diana Neagu, Partner at Vernon David & Associates, was a speaker at BR's Working Romania conference on Tuesday and explained that the current legislation in Romania is not in line with the programmes and initiatives carried out by companies in order to attract and retain employees, and argued that the private sector should do more to push for regulatory improvements.
Among the biggest problems that labour and employment lawyers have been facing lately is that certain elements of real life are not regulated well enough – all employers are taking part in this dance to retain employees, reduce emigration rates, make their employees more loyal, with various advanced programmes and initiatives – but unfortunately, Romanian legislation can't keep up with all these endeavours. This is why it's normal to wonder how companies manage to deal with the financial burden of these extra benefits, which usually won't really be supported by the legislation in any way.
Diana Neagu also brought up the idea of sabbatical leave and explained why it's difficult to implement in Romania due to the lack of related regulation.
"Initially a sabbatical leave meant a year off after six years of full-time work, but the concept has changed in the meantime through legislation in different parts of the world, whereas the employment period now varies from 6 months to three years or even to 10 years of length of service with the same company and the duration of the leave itself may be as short as 3 months and as long as 12 months. 

In the autumn of 2015, an HR organisation carried out a study on 400 respondents in Romania, asking them what they thought about sabbatical leave. Of the 400 people, 82 percent said it would be a good way for a company to ensure loyalty. Only 25 percent said they weren't interested, but my guess is that, in the almost 5 years period since the study this percentage has also decreased as a result of a change in generations.

Although several companies in Romania have tried to implement the sabbatical leave, there is an issue with its duration as it is much longer than the usual holiday period, so it can't be paid in our current legislative system. And we all know that unpaid leave entails a suspension of the employment agreement and, therefore no social contributions are made in that period which affects, among other things, the employees' pension. This is what triggered the implementation of a very different concept of sabbatical in Romania by some companies which have tried to add this benefit to their most loyal employees by decreasing the sabbatical period to three months instead of what is currently implemented in countries such as the UK, Germany, France, where the sabbatical may extend to a 11-12 months period. In other countries, regulations recognise the rights of employers and employees to use this time off, and each country has clear eligibility criteria as well as a proper regulation of the fate of the employment agreement during such period (for example, in Germany, the contract remains active). 

I think that the only solution is for the business environment to push for legislative changes in this area because this is not only a very good tool in the struggle to retain the ever diminishing workforce in Romania but also as a means to relate better to the wellness and wellbeing of the individuals themselves in a continuously increasing stressful and demanding global economy.  This type of benefit in particular, helps mitigate the risks of the burnout phenomenon which is affecting more and more the labor market in Romania.  

We therefore believe that is very unfortunate that employers in Romania have to find legislative loopholes and tricks in order to improve the lifestyle of their employees."