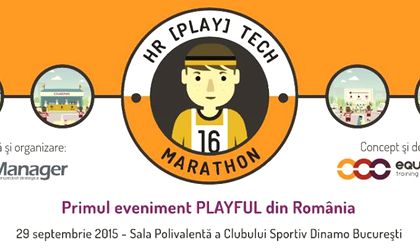 Technology changes industries, companies and jobs and HR makes no exception. In turn this increases the need for managers to acquire new skills and to develop new approaches and workforce management strategies.
Given this, after two accustomed editions, HR Manager magazine along with Equatorial, holds the first PLAYFUL event in Romania, on September 29, 2015, at Dinamo Sports Club, Bucharest, Sala Polivalentă.
HR [PLAY] Tech Marathon 2015 comes with a unique, creative and interactive concept which aims to:
• Connect HR decision makers with technology and HR related services providers;
• Help participants understand the way technology can serve in achieving professional goals;
• Changing the way information exchange and interaction happen within a business event.
HR [PLAY] Tech Marathon is an unconventional event that breaks the rules of an ordinary conference, because it involves teamwork, competition, social responsability and playful elements: learn, run and give!
The event is going to be a learning-through-play marathon with rules, challenges and specific race rewards. The participants are Runners, Race Sponsors and Organizers.
Among the first registered "Marathoners" are: Mihai Stanca – HR Sincron Managing Director, Mihai Găvan – Romanian Software Sales Manager, Alice Tîrşea – UCMS Group Romania Managing Director, Delia Iliasa – Club Moving General Manager, Roxana Maxim – Project Manager at HR Manager Magazine, Dan Berteanu – Equatorial Managing Partner.
Social engagement can change lives, so we decided to run for a good cause.
Besides the special structure of this edition, HR [PLAY] Tech Marathon 2015 brings the touch of social responsibility. At the end of the competition, the "calories burned" by each participant will translate into points and equated with "the equatorial", the currency of the event. The funds thus raised will later be donated in the form of foodstuff to SOS Satele Copiilor Romania.
Therefore, participating in the first ARG (Alternate Reality Game) in Romania is a memorable experience, offering interaction and quality networking, individual and team challenges, special prizes and social engagement through helping disadvantaged children.
More details about the participants, agenda and registration can be found on the event website: www.hrtech.ro