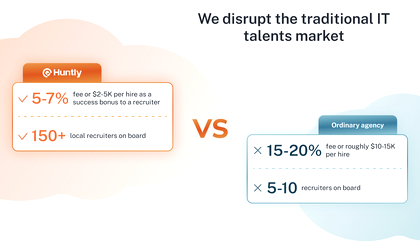 The global recession that is mostly happening in the United States and Europe has already made tech companies take cost-saving measures, such as employee layoffs and hiring freezes. But is it a winning strategy? Putting talent hunting on hold will likely lead to slower company growth and loss of possible revenue streams, lowering the company's performance in the post-crisis times.
This prompts Western tech companies to look for alternative ways to withstand economic headwinds. One of them is hiring software developers in countries like Romania. The country consolidates its positioning as one of the leading destinations for IT offshoring in Eastern Europe due to the rapid growth of the tech sector and a highly skilled pool of IT talent.
Recently launched in Romania, the IT recruitment marketplace Huntly helps international tech companies tap into this talent pool more efficiently and streamline their recruitment process. Huntly supports IT employees with new facilities, including free job postings, tailored success fees, and access to a network of over 150 local recruiters. With these benefits, companies can achieve cost-efficiency and thus resist the current economic recession.
A study conducted recently by Huntly showed that the main reasons for hiring Eastern European developers, including Romanians, are:
Extensive pool of specialists (1 mil in the CEE region);
Profound expertise (English proficiency, STEM education, excellent tech skills, of which Romania scores high on PHP, C#, and Java);
Affordable software developer remuneration (in Romania starting from $23,000 per year for a junior position, up to $56,000 for a team lead);
Business-friendly environment (new legislation and policies aimed at the simplification of business and tax conditions);
Robust data security (data privacy and protection as in most countries that are EU member states);
Convenient location (time difference of 1-2 hours from Western European countries);
Western-oriented mindset (similar work ethics and values to Western European and American companies).
Huntly disrupts traditional recruitment practices
The main disadvantage of hiring software engineers is that it can be quite a time-consuming and expensive process. To answer this challenge, the IT recruiting marketplace Huntly, recently launched in Romania, disrupts traditional recruitment practices in the IT industry. Huntly offers an innovative community-based platform to help companies hire software developers faster and more cost-effectively.
New clients can post their vacancies for free on Huntly and choose one-time bonuses for recruiters. The total fee is usually 5-7% of the candidate's gross annual salary compared to 15-20% in traditional recruiting agencies, allowing tech businesses to spend up to 4 times less on talent acquisition. To provide employers with the highest-quality candidates, Huntly pre-screens every CV shared via the platform. This process leads to a 10x increase in relevant candidates and a higher chance of successful hires, as 4 out of 5 candidates sent to a client receive an interview invitation.
"The IT market is undergoing fast changes amidst an approaching economic recession. Whereas before, IT companies focused on accelerating their growth, now the utmost priority lies in cost efficiency. Tapping into new markets is no longer an exception but a strategic move that allows IT companies to access new talents and reduce expenses. Hiring through Huntly makes talent acquisition four times cheaper than the market average and faster, thanks to an extensive network of local recruiters using our platform. Our goal is to become a reliable partner for growth during these challenging times in the industry. We are committed to further improving our services and technical capabilities to deliver even more benefits to our clients", says Nadiia Kovalchuk, a leading IT Recruiter from the Huntly team.
How it works
The platform was developed through the cooperation of professional IT recruiters and top Meta software engineers in California. Huntly stands out by its user-friendliness and transparent recruitment process for all the parties involved.
To start recruitment, the employer sets up a bonus for a successful referral (typically between $2,000-$5,000).
Then, the employer sends vacancies to the Huntly Team to be published for free on the marketplace.
After receiving the CVs from recruiters, Huntly pre-screens all of them to provide tech companies only with the appropriate resumes.
The company then interviews the candidates and selects the best fit for the job.
Upon the candidate's employment, the employer pays a one-time bonus to the recruiter and a small platform fee. This simple process saves the employer's time and money when searching for top IT talent in Romania.
Several global tech companies have already used the platform's services to find candidates, such as Paessler, ChromaWay, LivePerson, and Dotmatics.