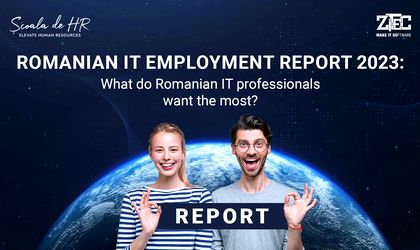 Scoala de HR, in partnership with Zitec, a leading IT & Digital Marketing company in Romania, has published the results of a study that provides a comprehensive view of the preferences, values, and aspirations of professionals in the technology field. The entire endeavor aimed to recalibrate employers' perceptions, make the needs of specialists known, and contribute to a people-oriented future.
The study, conducted in the first quarter of this year, includes both quantitative and qualitative analysis, encompassing 1592 unique form completions and 30 interviews with specialists from various IT companies, ranging in age from 18 to 55. A significant percentage of responses come from the capital city – 44.5%, but a substantial portion reflects the positions of professionals from all over the country and beyond: Cluj – 16.7%, Iasi – 11.55%, Timisoara – 7.5%, Brasov – 4.6%, abroad – 3.2%.
"We wanted to find out if the 'paradise' in the IT industry still exists. Alongside Zitec, we have been convinced that work standards in Romania are redefining themselves year after year, and the need to be present in private life becomes, as the study shows, one of the main concerns of IT employees," said Andra Pintican, founder of the Scoala de HR, emphasizing the evolving work standards and the increasing need for work-life balance among IT professionals.
The complete study, "2023 IT Employment Landscape," is available for free download on the Zitec website: https://tech.zitec.com/it-employment-report-2023.
"At Zitec, we are on a constant journey towards well-being at work, so we already have the tools and interpersonal connections within our team that help us have constant access to our colleagues' priorities and needs. Companies have to learn from the people in their teams, and people should have access to support from companies to learn and continuously develop in a favorable environment. We thought that all IT professionals in Romania deserve the same treatment. That is why we collaborated with the Scoala de HR on a study meant to reveal the desires of industry professionals as they are today, in 2023," stated Florentina Greger, Chief Talent Experience Officer at Zitec
The 10 major areas studied, broken down in the study, reveal the top priorities of tech employees, including:
The possibility of accessing a hybrid/remote work system – preferred by 98% of respondents, reaffirming the IT industry's successful adaptation to the challenges brought by the pandemic.
Joining healthy teams that value flexibility – identified as a need by 77% of the surveyed IT professionals, highlighting their desire for honesty, transparency, and competent management in the workplace.
Achieving a balance between professional and personal life with the help of the employer – a necessary aspect for 41.7% of the entire sample and one of the most encouraging statistics, according to Zitec & Scoala de HR.
Internal recommendations, a recipe for successful hiring
Another important aspect documented in the study reveals how people in the industry search for and evaluate potential new job opportunities. The majority of respondents end up getting hired through traditional methods, applying directly and following the classic interview-offer route. The second most popular method by which they were employed is through headhunting.
The third most popular method through which respondents filled their current positions is internal recommendation. This method has a conversion rate 7 times higher than the traditional one, according to Edelman Source Barometer. Moreover, 30% of the entire sample of respondents state that they would recommend their employer to a friend. Therefore, it becomes implicit that organizations need to make an extra effort to create an organizational culture that naturally inspires connections.
The channels used to search for employment vary depending on experience: entry-level IT professionals rely heavily on job platforms such as Ejobs and Bestjobs, while experienced professionals turn to LinkedIn and the websites of employers they are already targeting.
When it comes to evaluating an employer brand, among the 14 aspects highlighted in the study, the most commonly encountered are:
Professionalism and technical skills of the existing team
Employer reputation and internal company culture
Portfolio of clients and diversity of projects undertaken
Internal company products
International brand reputation
Employees have become much more demanding when it comes to job dissatisfaction.
The data shows that people in the industry know very well what they want, but they also know what they don't want. When asked what would make them leave an employer, they emphasized:
Poor-quality management – illustrated by micromanagement, dualism, bullying, lack of empathy, manipulation, and unethical behavior.
Toxic culture – represented by a dysfunctional team, working overtime as the norm, nepotism, or a oppressive atmosphere.
Lack of growth opportunities within the company.
Employer inflexibility regarding the "work from anywhere" culture, coupled with a lack of respect for employees' personal time.
Lack of validation and recognition – both verbal and in terms of financial or material rewards.
Among professionals interested in leadership positions, millennials represent the largest proportion.
Other interesting information, based on the nearly 1600 responses, indicates that employees are open to leadership positions or to pursuing entrepreneurship in the next 10 years, as follows:
26.8% want to start their own business.
14.7% of respondents stated that they aim for management and top management positions, with 60% being millennials, 22% Gen Z, and 13% Gen X.
In conclusion, the results of the "2023 IT Employment Landscape" study offer new perspectives on the evolution of the IT sector in Romania. The data, extensively explained on the Zitec website, highlights the changing priorities of IT professionals: the balance between professional and personal life, fair compensation, and flexible work arrangements. All these aspects seem to be key to the satisfaction of IT employees.
The future of work in the IT sector is exciting and full of potential, and companies that prioritize the needs and aspirations of their employees have a chance to thrive in this ever-evolving landscape.