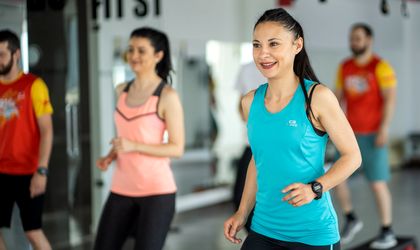 Sodexo Romania, the leader in the field of extra-salary benefits and services for the quality of life in Romania, has decided to get actively involved in promoting home sports, offering its over two million beneficiary free access for a month to the 7card@Home program. Thus, Sodexo card users will be able to benefit from online sports, relaxation, nutrition, or mindfulness classes, live or recorded. The development of physical and mental tone among employees is the main concern of HR departments this year in over 90% of partner companies of the 7card network, according to an internal research.
"Romanian companies are more concerned with motivating their employees and increasing their general well-being. Our focus is to ensure the improvement of the quality of life of Romanian workers nationwide. We want to support the companies to offer their employees access to more sports and relaxation activities, aspects that contribute to supporting a good physical and mental state, with a direct impact on the level of productivity, job satisfaction, retention, or creativity," said Manuel Fernandez Amezaga, Country CEO Sodexo BRS Romania.
During the next two weeks, the companies offering already Sodexo benefits to their employees can choose a start of the free access interval to the 7card@Home program. The more than two million beneficiaries of Sodexo services and cards can thus test for free the impact of sports, nutrition and mental balance programs offered through 7card. All activities in this online program can be done from home.
7card is the main sports and relaxation subscription on the local market, offering users hundreds of online workouts and access to dozens of activities in over 650 sports centres across the country. The concept was developed by the company Benefit Seven, which became part of the Sodexo group in 2019. Over 1,600 companies in Romania offer employees 7card subscriptions.
7card@Home is a new program that offers unlimited access to online classes of fitness and relaxation from the comfort of your own home. The classes are structured according to the three main objectives: weight control, maintaining tone and achieving well-being. Nutrition classes complete each of these lesson packs.
Among the trainers leading the 7card@Home classes are world champion athletes, the physiotherapist of the Romanian National Football team or international dance instructors. The classes also include weight loss programs, training and maintaining muscle mass, toning, body position, Yoga, meditation and relaxation, dance, and Pilates.