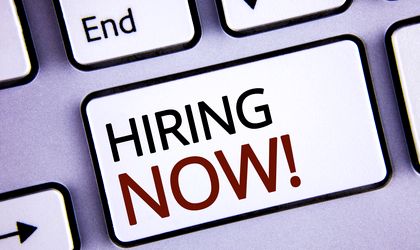 Companies from literally all the main sectors of the local economy say they have problems filling jobs in this period marked by a very low unemployment rate.
Close to 55,000 jobs were vacant at the end of the first quarter of the year, while in the same period some 332,000 Romanians were out of work. The average unemployment rate was 3.81 percent at the end of March.
Although some of the counties in southern and eastern Romania are still grappling with unemployment rates that are almost double the national average, two counties stand out as having a jobless rate under 1 percent.
Ilfov County recorded an unemployment rate of 0.66 percent, with 1,235 people out of work – the lowest across Romania. The county provides a labor pool for the Romanian capital, where the unemployment figure was 1.51 percent.
Moving away for the Bucharest-Ilfov area, Timis county also boasts an unemployment rate of 0.95 percent, with 3,306 people looking for work. This county, located in western Romania, has a strong manufacturing base with companies in the automotive segment standing out.  Analysts say that the good road links between Timis and the border with Hungary attract players in high demand of logistics services.
Other counties with an unemployment rate below under the national average are Arad, Arges, Bihor, Bistrita Nasaud, Botosani, Brasov, Caras-Severin, Cluj, Constanta, Giurgiu, Maramures, Prahova, Satu Mare, Sibiu, Tulcea and Valcea, according to data from labor agency ANOFM.
The biggest unemployment rate of 9.37 percent was in Mehedinti county.
Photo: dreamstime.com