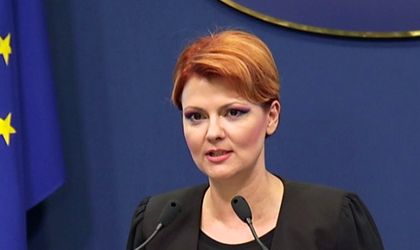 The minister of labor, Lia Olguta Vasilescu, said that the government wants to double the amount of subsidies paid to companies that hire the unemployed or individuals enrolled in welfare programs.
Vasilescu said this move is designed to ease the recruitment crisis faced by employers. More than 50,000 jobs are currently vacant in Romania, with the unemployment rate at historic lows.
"We thought of supporting all in the business environment that want to hire people in the next period. Thus, the state will pay RON 2,250, the equivalent of EUR 500 per month, to employers that hire unemployed or people getting welfare. For each of these person, for a period of five years depending on the category from which the future employees are part of. The amounts will be offered for the hiring of young graduates of any kind of school – vocational schools, secondary or high school education, young people that are disadvantaged, interns, no matter the age, the disabled or people close to retirement," said the minister.
She added that employers will be able to offer a bigger amount than the one offered by the state for each new employee, so that "wages in Romania get closer to the levels recorded in other European states and to stop the massive labor drainage."
The doubling of the subsidies will be approved through an emergency government ordinance. It's not clear how many companies can benefit from the subsidies and what's the hiring target.