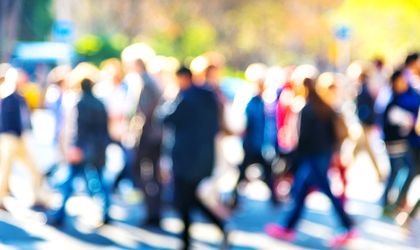 For 20 years the Romanian workforce lingered below the figure of 5 million employees, but for the past 2 years has been closing in on this number, considered critical by analysts. ZF.ro reports the Romanian workforce at 4.984 million in September 2019, a figure that's agonizingly close to the mentioned milestone.
For the past two years, analysts have expected the 5 million mark to be crossed, but every time their predictions came short only by small margins, with 4.943 million employees in September 2018 and 4.984 million in September 2019. Nevertheless, the constant growth of the Romanian workforce which started in 2012 is remarkable, after hitting an all-time low in 2011, when Romania had been left with only 4.095 million employees, losing 740,000 jobs during the recession.
This growth also comes as a rebuff for the critics of the minimum wage increase, who claimed that forcing employers to pay higher minimum wages will reduce their ability to create new jobs, when in fact the measure determined more people to enter the work pool. Romania has around 5.1 million retired citizens, which means that the closing gap between this figure and the number of employees will lighten the burden on the Romanian economy.
Data from the National Institute of Statistics (INS) shows that the number of employees grew by 41,000 between September 2018 and September 2019, with sectors such as constructions, retail, healthcare, HORECA, real estate and IT&C as the driving forces of this growth.
"For two years, Romania has been in a favorable economic position, and the percentage of the working population is at an all-time high. Romania had a continuous economic growth for the past 7 years, which drove the level of employment. If the economic growth will continue, it's possible to reach 5 million employees." Says economic analyst Aurelian Dochia for ZF.ro.