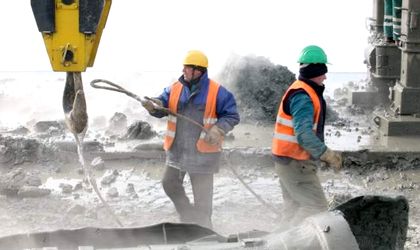 The manufacturer work market is in trouble. More than 70 percent of the millers and turners are at least 50 years old and the retirement of these craftmen could also mean the disappearance of these trades on the Romanian market, due to the lack of qualified personnel, according to the study of the labor market conducted by the Association of Local Employeers and Investors (PIAROM).
With huge percentage of employees over 50 there are very much in danger positions in the work market.
Over 83 percent of overseers from civil, industrial and agricultural construction have over 50 years,
About 82 percent of mechanical sub-engineers,
Around 75 percent of millers,
About 74 percent of turners,
71 percent of employees working as foreman,
Oover 66 percent of employees working as rectifiers,
Over 62 percent of those who work as a mechanical foreman,
Over 61 percent of mold technicians,
About 60 percent of those who work as energetic-electrician foreman,
More than 57 percent of stokers.
Occupations with the highest risk belong to the technical field and require higher education level or medium level technical training. 
The vocational school is decoupled from the labor market reality
According to the PIAROM study, the structure of graduates of the Romanian education system is not adapted to the needs of the labor market, especially if we relate to vocational education.
For example, in 2017 the main three professional qualifications were, according to the curricula, those of motor mechanics (4,726 graduates), textile products (1,593 graduates) and waiter in catering units (1,345 graduates).
Analyzing the first professional qualification as the number of graduates, with reference to the 26,000 auto mechanics registered in the Employee Evidence Register (Revisal), there are over five work contracts of the already working auto mechanic for a graduate, which shows that, on average, the number of graduates is oversized in relation to the real needs of the market.
So, probably, states PIAROM, many of the graduates will have to use professional reconversion.
The disappearance of job searches on the market, with the retirement of the last craftspeople who perform in those areas and the migration of skilled workers are among the major labor market problems in Romania that tend to become more acute and may become a threat in time for stability and sustainability of macroeconomic development.
The labor force migration, intensified with the liberalization of the labor market at European level and amplified by the significant salary differences in certain sectors of activity between Romania and most of the member states of the European Union, as well as by the lack of predictability of the legislative framework regulating the labor relations in Romania are other dangers to the future of the Romanian economy.