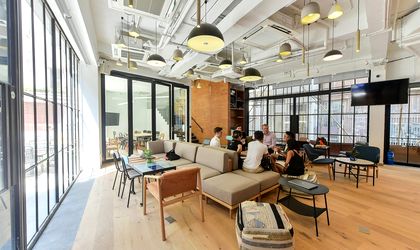 Around 60 percent of Romanian employees work remotely at least once a week, and more than 80% of companies consider that a flexible workspace would have a direct impact on business growth (91 percent), maximizing profitability and maintaining competitiveness (87 percent) that it would offer them the opportunity to expand their business in new markets, recruit and maintain talents in the organization (84 percent), according to a study by IWG, the group that includes Spaces and Regus.
The survey collected data from 200 respondents in Romania, both employers and employees. IWG annually conducts the largest study on attitudes towards flexible work with over 18,000 professionals from over 96 countries. When not working at the company's headquarters, almost half of the interviewed Romanian respondents work from home, and about 20 percent prefer cafes and business lounge options.
"The demand for on demand increases and is natural in the context of the workplace revolution. For generations, people have become accustomed to the 8 hour fixed hours work in the same office. But an increasing number of companies adopt a different work pattern that benefits both employers and employees, and why companies are reviewing their real estate portfolio. We have entered the era of mobile and flexible labor, and this phenomenon is a major change not only for Romania but also globally. Very soon the concept of flexible work will become normality, "explains Ramona Predescu (Iacob), country manager Regus and Spaces in Romania.
More than 90 percent of Romanian managers admit that they are concerned that their firm responds faster than competition to market changes and capitalize on opportunities that appear in new markets but without making long-term investments (81 percent of respondents).
Remote employees can bring significant savings
At the same time, 63 percent of the companies in Romania are interested in raising the revenues from international contracts over the next 3-5 years, compared to the 50 percent average of the global respondents. Interviewed managers (90 percent) think that remote employees can bring significant savings for the firm and that the use of flexible offices would reduce by up to 10 percent yearly room management costs (81 percent) – administration, equipment and decoration, maintenance costs – and spending with unused space (40 percent).
Business people in Romania have a low availability (28 percent) than the global average (41 percent) of having blocked capital in long-term property and technology contracts. More than 60 percent of respondents have recognized that they are considering abandoning the current space in favor of a flexible, subscription-based solution to redirect more capital to business growth initiatives.
The main 3 advantages that a flexible workspace provides for a company that starts operating in a new location are:
the avoidance of capital planning and investment costs (74 percent),
the set-up speed of space (64 percent),
the elimination of the "business downtime" related to these activities (31 percent).
Obstacles perceived as relevant when companies expand into new locations are:
price-to-value (78 percent),
IT infrastructure and services (67 percent),
the resources needed to fit and fit the new space (57%).
Romanian managers believe that a flexible working environment, from the perspective of time and location, helps employees to be more productive (over 80 percent), more satisfied at the workplace, and to have more effective meetings (over 70 percent), while allowing them to work closer to home (over 50 percent).
The characteristics of a 'productive' workspace, according to respondents in Romania, are inspired by customers (72 percent), high-speed internet (57 percent), a generous number of meeting rooms (40 percent) and access to transport (34 percent).
To the question of what would cause the companies in the industry where you are working to use remote locations, cost optimization was the answer of over 90 percent of respondents, followed by increased productivity, a better work-life balance for employees and time reduction lost in traffic by them. At the same time over 80 percent of the entrepreneurs mentioned the possibility of scale-up and scale-down of the business without long-term investments in the headquarters
In line with the growing global trend, 87 percent of Romanian respondents agreed with the opportunities offered by the recruitment of flexible workforce, freelancers or consultants, and the possibility of pressing the on/off button of the services used, depending on needs and with minimal losses, brings significant benefits to the company (82 percent).
The ability to quickly book an office (66 percent), a meeting room (61 percent), and finding the nearest office available when traveling to a new or a foreign country (52 percent), followed by cost management related are the main requests that Romanian respondents have from a mobile office application for flexible offices. At the same time, more than 80 percent of respondents have appreciated the impact that membership of a global business community has on the ability to innovate their own company.