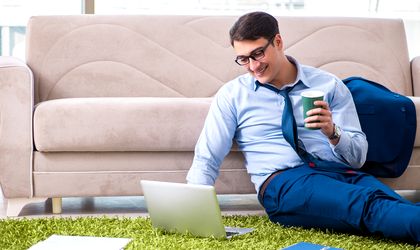 Given that working from home is only going to become more common, it is more crucial than ever to maintain productivity and take care of yourself properly. Here are some of our best suggestions for staying happy and productive while working from home so that you can reach your goals.
Create An Effective Workspace
In spite of how appealing it may be to work in your pyjamas from the comfort of your bed or favourite sofa spot, research shows that devoting a dedicated workspace actually increases productivity. Find a quiet, well-lit corner of your home that you can convert into your office if at all possible. Utilising distinct areas of your home for work and leisure can help you better demarcate your work and personal lives. If this is not possible, find a room that is isolated from the rest of the house.
Limit Distractions
Remote work has its advantages, but it also comes with a new set of challenges, such as dealing with potential interruptions. It's easy to get distracted by the TV or the laundry when you're at home instead of working. In order to avoid being side-tracked by these things, it can be helpful to prepare for a productive workday by doing things like cleaning the house and organising your workspace.
If it's impossible to limit the distractions in your home for any reason, you might consider hiring a serviced office when you need to. These were ideal for flexible working during the pandemic and are still popular today for those who work from home, but who prefer a dedicated office space to work from, at least some of the time.
Use The Right Tools
Conversations with coworkers are an integral part of the workday in any conventional office setting, from casual chats during breaks to more in-depth discussions of projects, news, and industry trends. When employees are required to work from home, they may become disengaged and lonely because they miss out on these types of casual conversations.
Installing an instant messaging app like Slack at home can increase your team's accessibility and allow for more spontaneous communication. Maintaining productive relationships with coworkers and learning to read each other's nonverbal cues can be facilitated by holding regular video calls on a platform like Microsoft Teams.
Get Ready In The Morning
Unless you have scheduled video calls, working from home doesn't require you to "get ready," but it's still best to avoid wearing pyjamas and keep up with your regular routine of grooming and hygiene. Similarly to how designating a specific area for work can help you feel more focused and productive, taking the time to get ready for work each morning can also help you feel more prepared to tackle the day.
Develop An End Of Day Routine
With no commute home at the end of the day, it can be tough to unwind and get the sleep you need to keep working hard and feeling good. To counteract this risk, try instituting a brief ritual immediately after work, rather than the traditional endpoint of commuting home. In order to feel more at ease and ready for the next day, it's a good idea to review and update your to-do list, check your schedule for tomorrow, and try to end on a positive note as the day winds down.
Photo: dreamstime.com